31 in 31 Series: Peoria Mustangs
August 24, 2014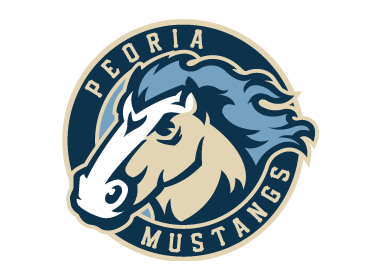 The North American 3 Hockey League (NA3HL) is pleased to continue their season preview series, '31 teams in 31 days' exclusively on na3hl.com, the NA3HL Facebook page and Twitter.
The 31 in 31 series will feature an in-depth look into all 31 teams in the NA3HL for the 2014-15 season, with a new team being highlighted daily, leading all the way up until the start of the regular season on Saturday, September 6th as eight NA3HL teams take to the ice on Opening Night.
31 in 31 goes in-depth into each NA3HL team and will include interviews with all 31 head coaches in the NA3HL, as they provide fans with their expectations and outlook for the 2014-15 season, including taking a look at their potential roster and their strengths as a team for the upcoming season.
It will also take a look back on the 2013-14 season and how each team fared and what they accomplished. Best of all, 31 in 31 will provide the fans of the NA3HL with an inside look at their favorite team and what to expect.
Peoria Mustangs
Head Coach: Tyler Rennette
2013-14 Record: 32-15-1, 65 Points (1st, Central Division)
2013-14 Leading Scorer: Nathan Chasteen (22 G, 53 A, 75 Pts, +23)
Playoffs: Eliminated by St. Louis in the Central Division Finals, 2 games to 1
2014-15 Division: Central
First Regular Season Game: Sat. September 6th 6:45 pm vs Chicago
Home Opener: Sat. September 6th 6:45 pm vs Chicago
With a 32-15-1 record, the Peoria Mustangs ended up 1st in the Central Division. They made a deep run in the playoffs but were eliminated by St. Louis in the Division Finals, 2 games to 1. Nathan Chasteen led the team in scoring with 22 goals and 53 assists. He will continue his hockey career at Robert Morris (ACHA DI) next season.
"As a new coach with the Mustangs this year that is pretty hard to answer," said the new head coach Tyler Rennette when asked if he was happy with last season's results. "I am sure the organization is happy with the results as they were division champions and had a bunch of players move on to school or the NAHL."
The hockey season is never really over; most teams are in a constant state of rebuild or improving the team in some aspect year around.
"Some of the tasks that my staff and I focused on were building a solid team from the ground up," said Rennette. "We wanted to focus on getting most of the returning players back and locked up and then focus on getting some of our draft picks locked up and coming to Peoria. We were fortunate to get Marc Hayton back in goal for us this season and we have a bunch of local kids that are vets now and will be counted on for bigger roles this season."
"I think that it is great that the league has 31 teams now," said Rennette when asked about the league now being at 31 teams and 5 divisions. "The competition should be strong in every division and I can't wait to see how it all plays out this year."
Potential players should know that Peoria is a really big hockey town. "It is one of a few teams in our league that has a junior team and a pro team in town and the coach of the pro team is one of our owners so we are surrounded by hockey people all the time," said Rennette. "I also like to preach development to the players and let them know that we will do what we can do develop them into better hockey players and into better people off of the ice."
With a strong finish last year, and a few strong returning players, Peoria should have another strong season ahead.
"We are fortunate to have Marc Hayton back in goal for us as he will carry a lot of the load," said Rennette. "I am also expecting big things from Marshall Gevers, Austin Wisely and Thomas Kolaz offensively this season. Kai Barber is going to be exciting to watch as well. He is a rookie that should do big things for us."
Next up in the 31 in 31 series: Pittsburgh Vengeance, August 25th