31 in 31 Series: Point Mallard Ducks
August 26, 2014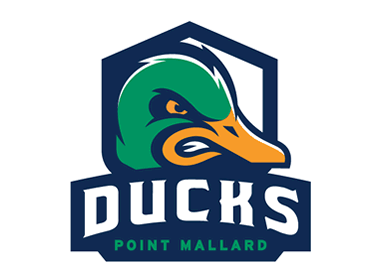 The North American 3 Hockey League (NA3HL) is pleased to continue their season preview series, '31 teams in 31 days' exclusively on na3hl.com, the NA3HL Facebook page and Twitter.
The 31 in 31 series will feature an in-depth look into all 31 teams in the NA3HL for the 2014-15 season, with a new team being highlighted daily, leading all the way up until the start of the regular season on Saturday, September 6th as eight NA3HL teams take to the ice on Opening Night.
31 in 31 goes in-depth into each NA3HL team and will include interviews with all 31 head coaches in the NA3HL, as they provide fans with their expectations and outlook for the 2014-15 season, including taking a look at their potential roster and their strengths as a team for the upcoming season.
It will also take a look back on the 2013-14 season and how each team fared and what they accomplished. Best of all, 31 in 31 will provide the fans of the NA3HL with an inside look at their favorite team and what to expect.
Point Mallard Ducks
Head Coach: Craig Bushy
2013-14 Record: N/A
2013-14 Leading Scorer: N/A
Playoffs: N/A
2014-15 Division: South
First Regular Season Game: Sat. September 20th 7:00 pm at Sugar Land
Home Opener: Sat. September 27th 7:00 pm vs Nashville
The Point Mallard Ducks are one of the newest additions to the North American 3 Hockey League. They are located in Decatur, Alabama, just outside of the hockey capital of the south where the University of Alabama-Huntsville (NCAA DI) is located.
"The Ducks are a first year team and we are excited to be here," said head coach Craig Bushy.
This summer the Ducks had a full team constructionon their hands along with getting their name out about the new program in town.
"Along with building our team we made great strides in integrating the team in the community, building a locker room and laying the foundation for a successful program," said Bushy.
"Lots of opportunities for kids," said Bushy about the league now being at 31 teams and 5 divisions. With southern hockey talent on the rise, the Ducks feel that they are in a good position to bring in skilled players to build their program.
"As a TPH program we are dedicated to developing and advancing our athletes," said Bushy. "We play in a great rink in the Hockey Capital of the South, have a partnerships in place for discounts on gear and operate with uncompromising character and a commitment to excellence."
With a few simple words, Point Mallard wants to get stronger in one thing. "Continue spreading the word, the Ducks have arrived in Decatur," said Bushy."
"Our number one goal is advancing players and running an excellent program," said Bushy when asked about what their goal is when it comes to advancing players vs. winning. "Winning is a distant second, but with our process and commitment to excellence we expect to be successful."
Being the new team in the south there will be a lot to prove of what southern hockey is all about. In a promising location, we will see what Point Mallard will bring to the table in the 2014-15 season.
"Priorities are to get players with high character, high aspirations and a willingness to work to achieve them," said Bushy"
Next up in the 31 in 31 series: Southern Tier Xpress, August 27th