31 in 31 Series: Southern Tier Xpress
August 27, 2014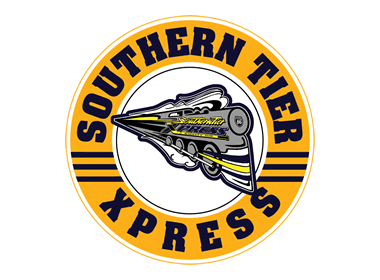 The North American 3 Hockey League (NA3HL) is pleased to continue their season preview series, '31 teams in 31 days' exclusively on na3hl.com, the NA3HL Facebook page and Twitter.
The 31 in 31 series will feature an in-depth look into all 31 teams in the NA3HL for the 2014-15 season, with a new team being highlighted daily, leading all the way up until the start of the regular season on Saturday, September 6th as eight NA3HL teams take to the ice on Opening Night.
31 in 31 goes in-depth into each NA3HL team and will include interviews with all 31 head coaches in the NA3HL, as they provide fans with their expectations and outlook for the 2014-15 season, including taking a look at their potential roster and their strengths as a team for the upcoming season.
It will also take a look back on the 2013-14 season and how each team fared and what they accomplished. Best of all, 31 in 31 will provide the fans of the NA3HL with an inside look at their favorite team and what to expect.
Southern Tier Xpress
Head Coach: Rylan Galiardi
2013-14 Record: 10-34-4, 24 Points (6th, East Division), *as Michigan Mountain Cats
2013-14 Leading Scorer: Kade Morrison (18 G, 16 A, 34 P, -12), *as Michigan Mountain Cats
Playoffs: Did not Advance
2014-15 Division: East
First Regular Season Game: Sat. September 6th 5:00 pm vs. Pittsburgh
Home Opener: Sat. September 6th 5:00 pm vs. Pittsburgh
With a 10-34-4 record, the Michigan Mountain Cats ended up 6th in the East Division. Kade Morrison led the team in scoring with 18 goals and 16 assists for a total of 34 points on the season.
Last year, the Michigan Mountain Cats unfortunately had a tough season. Over the summer they were sold and are now under new ownership and relocated to Jamestown, New York and will be known as the Southern Tier Xpress.
Rylan Galiardi will be the Head Coach and Seth Wolfe will assume the role as Associate Head Coach. Rylan obtained a bachelor's degree in sports management with a minor in business law from Minnesota State University (MSU), Mankato. Rylan's playing career includes stints in NHL training camps, the AHL, ECHL and professionally in Europe.
"Being the inaugural season for the Southern Tier Xpress, we want to set the standards high both on and off the ice as a premier organization in Junior A hockey," said new head coach Rylan Galiardi.
This summer the biggest task for head coach Galiardi and associate head coach Wolfe was to fill out the roster for the Xpress.
"Although it was challenging, we are fortunate in that way because we get to bring in the players we like that will set the table for years to come," said Galiardi. "We had 70 players at our Final Camp and feel we have 25 guys that fit the culture we want."
"Excited to be a part of the NA3HL and the East Division," said Galiardi when asked about his thoughts about the league now being at 31 teams. "We have a strong league and I am looking forward to seeing our team compete within the league."
With two solid coaches with a wealth of hockey knowledge, a great facility, and strong community backing, the Southern Tier Xpress is an easy sell for players looking to develop and move on to the next lever of hockey.
"Two of our organizations pillars are caring for our players and developing our players," said Galiardi. "Our players know they will be taken care of and be within a very organized and professional atmosphere."
Being that the Southern Tier Xpress is a new organization, they will have to go through a feeling out period to see what areas they will need to get stronger in.
"I am very happy with the players we have," said Galiardi. All have displayed the work ethic, character and commitment it takes to wear the Xpress jersey."
"We stress that advancing players comes before winning hockey games," said Galiardi when it comes to advancing players vs. winning. "If there is an opportunity to advance a player we do not hesitate to do so."
Under solid leadership and a bunch of new players, the Xpress look to be a strong competitor in the East division in the upcoming 2014-15 season.
"We have a young team but have a handful of junior hockey veterans we will be relying on from a leadership standpoint," said Galiardi. "Our priorities were to have a team that competes and is hard to play against and we believe we have that."
Next up in the 31 in 31 series: St. Louis Jr. Blues, August 28th