31 in 31 Series: St. Louis Jr. Blues
August 28, 2014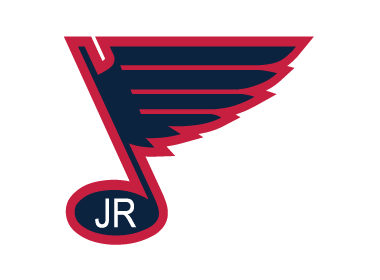 The North American 3 Hockey League (NA3HL) is pleased to continue their season preview series, '31 teams in 31 days' exclusively on na3hl.com, the NA3HL Facebook page and Twitter.
The 31 in 31 series will feature an in-depth look into all 31 teams in the NA3HL for the 2014-15 season, with a new team being highlighted daily, leading all the way up until the start of the regular season on Saturday, September 6th as eight NA3HL teams take to the ice on Opening Night.
31 in 31 goes in-depth into each NA3HL team and will include interviews with all 31 head coaches in the NA3HL, as they provide fans with their expectations and outlook for the 2014-15 season, including taking a look at their potential roster and their strengths as a team for the upcoming season.
It will also take a look back on the 2013-14 season and how each team fared and what they accomplished. Best of all, 31 in 31 will provide the fans of the NA3HL with an inside look at their favorite team and what to expect.
St. Louis Jr. Blues
Head Coach: Chris Flaugher
2013-14 Record: 30-15-3, 63 Points (2nd, Central Division)
2013-14 Leading Scorer: Mike Lozano (22 G, 34 A, 56 P, +24)
Playoffs: St. Louis defeated Peoria in the Central Division Finals, 2 games to 1. Defeated in Round-Robin play in the Silver Cup Championships and finished 3rd.
2014-15 Division: Central
First Regular Season Game: Sat. September 13th 8:00 pm vs Chicago
Home Opener: Sat. September 13th 8:00 pm vs Chicago
With a 30-15-3 record, the St. Louis Jr. Blues ended up 2nd in the Central Division. They made a deep run in the playoffs taking the Central Division title, and ended up taking home 3rd place in the NA3HL Silver Cup Championship. Mike Lozano led the team in scoring with 22 goals and 34 assists. He will be continuing his hockey career at Lindenwood University (ACHA DI).
"Overall we were happy with our results," said head coach Chris Flaugher when referring to last season. "We placed second, two points out of first in a very competitive Central Division and advanced to the Silver Cup Championship tournament. What really made the season a success was moving a player up mid-season to the NAHL, having three players sign NAHL tenders, and moving several players on to college hockey."
This summer the Blues will simply look to fill the spots of the players that have moved on.
With the league now at 31 teams and 5 divisions it gives us a foot print as far west as the Frontier Division, as far east as New York, as far south as Texas, and up north in Minnesota.
"We are pretty much spread throughout the country, that gives players an opportunity to play in their geographic region and stay close to home," said Flaugher.
The St. Louis Jr. Blues pride their program on player advancement. "Our main goal is to help players move on to the different levels of higher hockey," said Flaugher. "If we have an opportunity to move a player up mid season, we will not hold a player back from the opportunity they deserve. We run a first class organization to the mindset of what is best for the players."
When it comes to getting stronger, St. Louis wants to get the word out that playing for them is a great option.
"With all the teams around the country, competition is heavy and everyone looks to land the best players," said Flaugher. "You can't ask for a better situation than a program that puts player advancement as the #1 priority. Our club isn't in this for any other reason but to help players become better players and advance to the next phase of hockey in their life."
"The balance of winning and player advancement is totally 100% advancement," said Flaugher in regards to advancing players vs. winning. "We will never hold a player back from advancing to help our team win games. That isn't fair to the player and is against what our main philosophy is as a club."
The outlook for the Jr. Blues this season is promising. They will be returning some good offensive players and goaltenders.
"We lost a lot on our blue line due to moving players on from this past season," said Flaugher. "We will be rebuilding our defensive core. We have some good prospects that are looking forward to the challenge of playing and competing in the NA3HL. We are excited to see what the season will bring."
Next up in the 31 in 31 series: Sugar Land Imperials, August 29th