Former Jets goalie Kelley makes NCAA commitment
September 5, 2014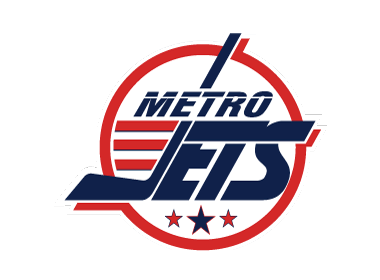 By Matt Mackinder
Dillon Kelley may have arrived in town to play for the Metro Jets during the 2011-12 season as a unknown commodity, but after progressing from the North American 3 Hockey League to the North American Hockey League in the two seasons after that, his stock rose and he can now call himself a college hockey goaltender.
Kelley, a 20-year-old Petoskey, Mich., native, will join the Adrian College NCAA Division III team this year with his eyes on very reasonable goals.
"This year as a freshman, my job is simple – bust my butt, take in as much as I can from my two senior goalie partners and push them, my team, and myself to get better day in and day out. I will fight for my playing time and take things day by day, one step at a time."
It was nearly a year ago that the whole Adrian situation looked like it could unfold into a serious opportunity for Kelley, who said he will pursue a degree in either sports management or exercise science.
"Adrian began showing interest in me last December and I talked with the former coaching staff (head coach Ron Fogarty and assistant coach Stavros Paskaris) throughout the rest of the season," Kelley explained. "Then when both coaches got a job at Princeton, new head coach Adam Krug called and we worked things out from there. I'm very excited and honored to be able to come into such a successful NCAA college hockey program.
"I have visited the school before when going for preseason games both with the Jets and Michigan Warriors (of the NAHL). It's a small campus, but also a very nice campus. The team has been very successful and a top contender every year since it began and I'm very excited to become a part of the tradition here. Coach Krug is a very personable guy and has had good success coaching a (United States Hockey League) national championship team in Indiana last year. The team is built around success and this year won't be any different."
The Adrian program only began in 2007 and in seven years, the Bulldogs made the NCAA tournament four times, finishing as national runners-up in 2011, in addition to six straight first-place finishes in the MCHA and second place last season in the NCHA.
With the Jets three years back, Kelley went 18-8-1 with a 3.62 goals-against average, a .891 save percentage and three shutouts. After the Jets were bounced in the 2012 NA3HL playoffs, Kelley saw action in one game for the USHL's Dubuque Fighting Saints.
During 2012-13, Kelley played for the NAHL's Corpus Christi IceRays (ironically enough, for current Jets' coach Justin Quenneville) and the Warriors before splitting time last year with the Warriors and Austin Bruins.
"My time at Metro with coach Jason Cirone and goalie coach Randy Wilson was a big factor in my development," boasted Kelley. "Jason gave me the opportunity to play night in and night out and Randy helped shape me into a well-rounded athlete and goaltender. Having coaches like that who are willing to work with you and put faith in you makes my job of stopping the puck that much easier and helped me get to the next level. My years in the NA gave me lots of experience and memories that I will carry with me for my entire life.
"I had some great coaches along the way and had some incredible experiences both good and bad which helped get me to where I am today."