31 in 31 Series: Yellowstone Quake
September 5, 2014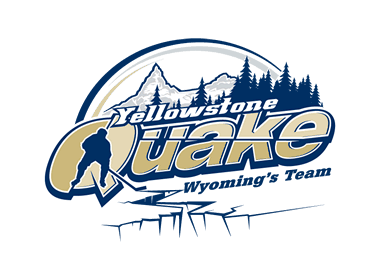 The North American 3 Hockey League (NA3HL) is pleased to continue their season preview series, '31 teams in 31 days' exclusively on na3hl.com, the NA3HL Facebook page and Twitter.
The 31 in 31 series will feature an in-depth look into all 31 teams in the NA3HL for the 2014-15 season, with a new team being highlighted daily, leading all the way up until the start of the regular season on Saturday, September 6th as eight NA3HL teams take to the ice on Opening Night.
31 in 31 goes in-depth into each NA3HL team and will include interviews with all 31 head coaches in the NA3HL, as they provide fans with their expectations and outlook for the 2014-15 season, including taking a look at their potential roster and their strengths as a team for the upcoming season.
It will also take a look back on the 2013-14 season and how each team fared and what they accomplished. Best of all, 31 in 31 will provide the fans of the NA3HL with an inside look at their favorite team and what to expect.
Yellowstone Quake
Head Coach: Tom Maroste
2013-14 Record: 11-30-7-0, 29 Points ( 6th in AWHL)
2013-14 Leading Scorer: Jimmy Tich (32 G, 41 A, 73 P, -14)
Playoffs: Did not Advance
2014-15 Division: Frontier
First Regular Season Game: Fri. September 19th 7:30 PM at Billings
Home Opener: Sat. September 20th 7:30 PM vs Bozeman
With an 11-30-7-0 record, the Yellowstone Quake ended up 6th in the regular season in the AWHL, just two spots out of the playoffs. Jimmy Tich led the team in scoring with 32 goals and 41 assists. The Quake will join the NA3HL as part of the newly formed Frontier Division.
"We were happy with our player development on an individual level and as a team," said Head Coach Tom Maroste. "However with 11, one-goal losses in regulation and 7 losses in overtime, we were right on the verge of making playoffs and were unable to. We look to rectify that this year."
Being apart of the community of Cody Wyoming, the Quake are looking to pick up players this summer that will make a big impact both on and off the ice.
"Recruiting players that are capable on-the-ice, of making an impact and pushing us over the edge to a winning record are what we are looking for, but also off-the-ice we have recruited players that will be a positive influence on our youth programs and in the community," said Maroste. "We are in the business of not only developing skilled players, but also developing professional young men."
"Joining the NA3HL is a big step up for our division," said Maroste when asked about his thoughts on the league now being at 31 teams and 5 divisions. "The move will help the players get exposure to colleges and NAHL teams and be recognized for their accomplishments."
"We skate every day. We have a nice rink. Our organization is top-notch, and we have medical staff that includes trainers, chiropractor, dentist, optometrist and an orthopedic surgeon," said Maroste.
Mentioned above are a few things the Quake believe to make their program a strong sale to players looking to develop their skills and move on to higher levels of hockey.
"We have a billet system that is well established with a caring group of families that help the players have a wonderful experience away from home. Cody, Wyoming is a unique and wonderful community that loves hockey and your experience as a player in Cody will be second to none," he continued.
Most teams want to be strong in all aspects of the game and with the Quake it is no exception.
"We want to be stronger at every position," said Maroste. "A good kid on and off the ice will advance and deservedly so," said Maroste when speaking about the balance of advancing players vs. winning. "We strive to develop players' skills, but also help them grow academically and as young men."
With the new season just days away, the Quake looks to make it into the playoffs after falling just shy in the AWHL last season.
"We have several players capable of playing at higher level and we hope to help them advance," said Maroste. "We expect our team leaders to be high-level players on the ice and to get a lot of attention in the NA3HL. Josh Neumann is a well-rounded all-around hockey player that can play both side of the puck with great leadership ability on and off the ice. Sawyer Scanlan will play forward and we expect him to be one of the top scorers in our division. In net, returner Sean Leheay has had a productive off-season and we will count on him to be solid for us."