Breezy Point makes history with shutout wins
October 20, 2014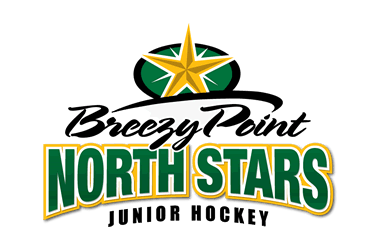 The Breezy Point North Stars of the NA3HL made some team history this past weekend as they posted back-to-back shutouts for the first time in team history. The wins moved the North Stars record to 4-8-0 on the season.
On Friday, Dakota McDonald kicked away 19 shots as the Breezy Point North Stars shut out the Minnesota Flying Aces 2-0 at home. Philip Grippi and Joe Costello scored the Stars' goals with assists going to Crosby Steen, Nick Blanchette and Alex Mimmack. Breezy Point outshot the Aces 31-19.
On Saturday, Breezy Point goalie Joe Licata stopped all 24 shots he faced as the North Stars blanked the Minnesota Flying Aces 9-0 on the road. Crosby Steen, Ryan Herbert and Joe Costello each scored a goal and collected an assist for the Stars. Brooke Evans, Branden Walsh, Nick Blanchette, Taylor Marx, Jordan Carey and Ryan Mezera scored the other Breezy Point goals. Linder Kenyon notched two assists and Felix Conrads and Seyia Hayata each collected one for the Stars, who were outshot 24-22.
Breezy Point plays the Twin City Steel at White Bear Lake at 7 p.m. Friday before hosting the Chicago Junior Bulldogs at 7 p.m. Saturday.
Breezy Point in under the direction of head coach Jeff Worlton, who was the former head coach of the NA3HL's Flint Junior Generals and spent the past few seasons as an Assistant Coach in the NAHL with the Corpus Christi Ice Rays.