Young Bulls winning on the road as homestand nears
October 21, 2014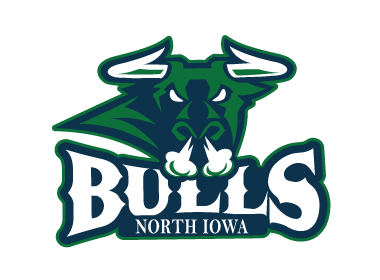 By Jeremy Koenigs, Globe Gazette
The road trip is just about over for the North Iowa Bulls.
North Iowa, which sits tied for third place in the NA3HL's West Division with 12 points, has played 10 games this season. All 10 games have been away from the North Iowa Ice Arena, where the Bulls (6-4-0) have held their own at opposing arenas.
"I look at where our team is at right now and I like where we're at," North Iowa coach Todd Sanden said. "We're getting better every week and we're figuring out how to win with a young team."
The Bulls wrap up their 11-game road trip to start the season on Thursday with a divisional clash against the Twin City Steel (7-5-1) before North Iowa's home opener against St. Louis on Friday.
Friday's game against the Jr. Blues is the start of an eight-game homestand at the North Iowa Ice Arena, a venue in which the Bulls have proven to be hard to defeat in their first three seasons.
"One of our biggest selling points to potential players is the atmosphere we have at home," Sanden said. "The guys are getting excited and I know it will be a great weekend. We'll have great crowds and we're revealing our (championship) banners on Friday night."
While the home ice will be a welcome sight for the Bulls, they have won six of their last eight games on the road after starting the season 0-2, receiving production from everyone in their lineup.
"That's been the storyline in a nutshell," Sanden said. "You don't know who is going to step up every night. We certainly have some guys that have stepped up but we don't have those top returning guys like we have had in the past."
Instead, North Iowa has found a way to win with great goaltending and a balanced offensive attack.
Joe Kleven leads the Bulls with nine points, including a team-high eight assists.
"He's our top defenseman in offensive production," Sanden said of Kleven, a 6-foot-3, 225-pounder from Prior Lake, Minnesota. "He's a big guy who gets up and down the ice and he has a heavy shot."
A total of 23 players have recorded a point for the Bulls, who have received goals from 17 players.
Former Mohawk Hockey Club standout Joe Burgmeier, who leads North Iowa with six goals, has impressed Sanden.
"Joe's a hometown player who is a big part of our lineup," Sanden said. "He works hard at everything he does and he makes my job a lot easier. It's been a good fit for everyone involved."
While Burgmeier and Kleven have led the offense, the Bulls have two of the top goaltenders in the league in David Johnson and Jordan Moran.
Johnson is tied for first in the league with a 0.75 goals against average while Moran is tied for sixth, allowing two goals per game.
"They're still battling for time, but whenever we plug them in they've given us good production," Sanden said.