Gongshow Flow of the Month winner for October announced
November 3, 2014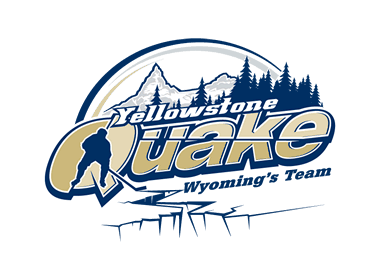 It is time once again, for that tradition known as the Flow of the Month. The 2014-15 season is well underway and the players have had two months to work on the perfect their flows. There were some great submissions this month so let's see who stood out among the crowd.
With that in mind, the North American 3 Hockey League (NA3HL) announced its Gongshow Flow of the Month winner for October 2014.
The winner this month is Yellowstone Quake forward Andrew Ether.
Ether, 17, is in his first season of junior hockey in the NA3HL with the Quake. The 5'10/175 lbs. rookie from Stoughton, Wisconsin, has played in five games this season with the Quake, with the most recent coming on Halloween night.
Ether previously played for Stoughton High School in Wisconsin. Ether turned 17 in September, which means his junior hockey career is just starting.
Although he is a rookie the ice, Ether's hair has pure veteran hockey player veteran status written all over it. He started the year with a nice mugshot (right), which consisted of a nicely groomed 'featherduster' look, that even had a few highlights.
But, oh how things have changed! Junior hockey showed its immediate impact on Ether's new doo, as he took a little something off the top just to keep us interested, kept the nice back length to the top of the shoulders and then topped if off with the coup de gras with the shaved sides, which include the double muffler/racing lines on the sides.
For you 1980's football fans, think Brian Bozworth without the platinum blonde hair or rainbow lines. Maybe one of the best flows we will see all year!
Gongshow is the exclusive sponsor of the Flow of the Month promotion exclusively on the NA3HL and Gongshow Twitter sites @NA3HL and @GONGSHOWGEAR. Fans and players alike are encouraged to submit photos of their best 'hockey hair' or 'flow' via Twitter by the end of every month during the regular season.
To enter the contest for the month of November, submit your best #FlowoftheMonth pictures by November 30th to @NA3HL and @GONGSHOWGEAR. Winners will be selected on December 1st and will receive a Gongshow Gear hat. Special consideration will be given to those who not only have the best flow, but who also accompany it with a moustache.
During the month of November, Gongshow and the NA3HL will team up for their 'Movember' campaign, as NA3HL coaches, staff and players will support Men's health and cancer awareness by growing moustaches. Gongshow will be providing the prize pack to the team that raises the most funds.
Gongshow Gear Inc. (Gongshow) is the Official Lifestyle Hockey Apparel of the NAHL and NA3HL. Gongshow is recognized as the hockey good industry's premier manufacturer of innovative, high quality, fashionable and trend setting clothing apparel for hockey athletes of all ages and abilities.