Minutemen excited to be a part of the NA3EHL
November 5, 2014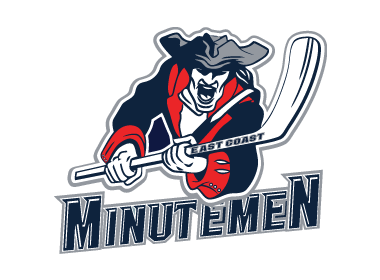 By Joshua Boyd, USA Junior Hockey Magazine
"The Minutemen" is a good nickname for one of the first members of the new NA3EHL, a league affiliated with the Tier-2 North American Hockey League.
After all, the Salem, N.H.-based organization the East Coast Minutemen had to act fast. Taking over a former Northern States Hockey League team, co-owners Keith Wallace and Neil Liston were happy to announce both their new identity and new home league.
"Being part of the NA3EHL is great for the owners and coaches for recruiting purposes. We can get better talent as well as more college recruiting of our players," said Wallace, who is also the head coach of the Minutemen. "The merger [between the former Northern States Hockey League] and the NAHL is beneficial more to the players than anyone. There was good talent in the NSHL. It was not as widely recruited as it should have been."
"It'll be a great recruiting tool," added Liston, "especially when you're out of the area. When you're in Europe or just outside of Massachusetts, and you talk to junior players, all you hear about are the United States Hockey League and the NAHL. That association will be huge for us. Also, we're in the New England mecca of college hockey, and that should be a big help, as well."
Liston knew things had to change from the previous incarnation, and change quickly, when there were only eight players at pre-season dry land training when the team still had its old moniker.
"Every year, I take graduated college players over to Europe and negotiate contracts for them to play there," said Liston. "I went over there and didn't know we were having problems with numbers. I came back and ran dry land training and we had eight players. We were on the verge of going dormant for the year. The NAHL gave us an opportunity, and now we have more guys coming in."
Even still, as October flipped over to November, there were only 19 skaters on the Minutemen. Liston and Wallace welcome players who may still be looking to land a junior spot this season to contact them (see information at the bottom of this article.)
In Year 1 of the NA3EHL, which is an Eastern U.S. version of the Midwest-and South-based NA3HL, 10 teams are competing. All 10 teams are going to seek USA Hockey certification for the 2015-16 season, as part of their alignment with the NAHL brand.
The Minutemen struggled out of the gate, still looking for their first win in the new league as of Halloween. Wallace and Liston are confident that, with some of the veteran players and newly signed talent they have, there will be a turnaround soon.
"We're missing a few pieces, but I like the guys I have right now, and the effort they give," said Wallace. "If we were in shape, we'd be a tough team to play against, but we're out of shape. Once we get in shape, add a few more pieces, and when everyone is on the same page, we'll be a very tough team to play against."
Liston and Wallace prefer a mixed team – they have a roster that includes three '94's and five '95's for some older leadership, and then five '96's, five '97's and even two '98's (defenseman John Field and forward Matthew O'Connor) to build for the future.
"I like a mixture of younger and older players. I want some guys who will be in their last year next year, along with the 16-and 17-year-olds, so the older guys can show the younger guys what to do," said Wallace. "That way, we don't lose everyone at the beginning of the next year, and we have a nucleus that have played together. That's what the East Coast Minutemen are about."
Maxwell Campbell, Dan Camara and Vlad Dyabenev are back from the team's previous incarnation, while '96 goalie Aiden Critchlow is a strong goalie who is seeing a ton of shots.
Critchlow, out of Fredericton, N.B., recently faced 78 shots and made 75 saves in a league game. Critchlow has been selected to represent the NA3EHL in goal in a showcase in Minnesota to be held Dec. 7-9.
Matt Bauchman, a newcomer, scored two goals in his first game for two goals in two games thus far.
Samu Landen joins the team from Finland and brings good size at 6-feet-5-inches, 230 pounds, while Bryan Seiner has joined from Switzerland.
A big help to these players and all others who join the Minutemen is the added amenity of a gym at their disposal – Liston runs Higher Ground Sports and Fitness, of Lynn, Mass.
"In Neil, we have a personal trainer who runs all our dry land training, and he also has synthetic ice in his gym," said Wallace. "That brings a whole different element. We don't have to worry about kids getting re-injured."
Read the rest of the story
here