Granite City beats MInnesota 7-3 on Thursday
November 7, 2014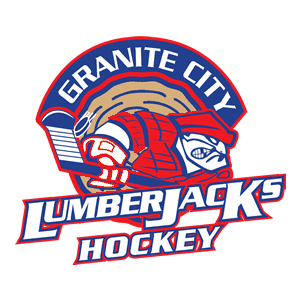 Granite City 7 @ Minnesota 3 - The Granite City Lumberjacks won 7-3 over the Minnesota Flying Aces on Thursday. NA3HL Forward of the month for October Tanner Skaja had two goals as did Jared Sprink.
David Kenny had a goal and two assists and Travis Kothenbeutel chimed in with three assists.
After a scoreless 1st period, Granite City jumped out to a 5-0 lead on two goals from Sprink, two from Skaja and one from David Horsmann.
Granite City kept Minnesota's goalie busy throughout the game, and Kevin OShea made 34 saves on 41 shots. The Lumberjacks bested their season scoring average. Granite City has scored at the pace of 4.7 goals per game during the current campaign.
The Flying Aces stifled the Lumberjacks' power play, and did not give up a single goal while down a man.
Minnesota was helped by Jake Mullendore, who registered one goal and two assists. Mullendore scored on the power play 5:40 into the third period to make the score 5-1 Granite City. Minnesota additionally got points from Thompson, who also racked up one goal and two assists. Minnesota also got a goal from Lucas Mutschelknaus as well. In addition, Minnesota received assists from Jesse Brown and Blake Neumann, who contributed one each.
Zach Voss had the other goal for the Lumberjacks, who remain in 1st place in the West.
Kendall Meyer made 22 saves for Granite City on 25 shots. The Lumberjacks incurred 14 minutes in penalty time with seven minors. Minnesota incurred 14 minutes in penalty time with seven minors.