NA3HL announces Divisional Stars of the Week
November 11, 2014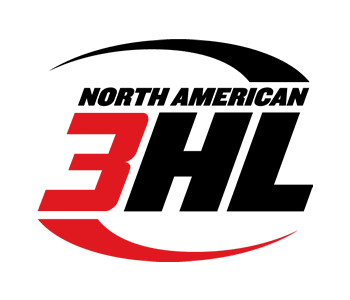 The North American 3 Hockey League (NA3HL) today announced the Divisional Stars of the Week presented by Easton for the week ending November 9, 2014. The divisional stars of the week is an award given each week of the regular season to the top performing players in each of the five divisions of the NA3HL as nominated by their head coaches.
Central Division Star of the Week: Dakota Ulmer, forward, West Michigan Wolves
The West Michigan Wolves kept pace in the Central Division this past weekend with two wins in three games. 18-year-old forward Dakota Ulmer had a hand in scoring in all three games. The native of Commerce, MI, had six points (3 goals, 3 assists) in the three games as the Wolves beat the Metro Jets and split with the Peoria Mustangs. On Friday, Ulmer (5'9/160) had three assists in a 5-3 win over Metro. On Saturday, he tallied two goals in a 4-2 win over Peoria. On Sunday, Ulmer had a goal in a 5-2 loss to the Mustangs. For the season, Ulmer is 2nd in team scoring with 21 points in 14 games played. "Dakota has consistently been a top performer for us this season. He's a highly skilled player that has made a smooth transition to junior hockey and has excelled in all situations," said Wolves head coach Marc Fakler.
2nd Star: Sam Harden, G, Chicago Jr. Bulldogs
Honorable Mention (alphabetical): Jace Cseter, F, La Crosse Freeze – Thomas Hanson, F, Wisconsin Whalers – Adam Havener, F, St. Louis Jr. Blues – Kyle Keeder, D, West Michigan Wolves – Zach Lawson, F, La Crosse Freeze – Adam Schoenfeld, F, Wisconsin Whalers – Andrew Scofield, F, Peoria Mustangs – Nathan Scofield, F, Peoria Mustangs
East Division Star of the Week: Brandon Desrosiers, forward, Southern Tier Xpress
It was two wins for the Southern Tier Xpress this past weekend as they beat Cincinnati at home and beat Cleveland on the road. Forward Brandon Desrosiers, 20, played well in both wins as he totaled five points (4 goals, 1 assist) in the victories. The native of Deerfield Beach, FL, began with an assist in a 2-1 home win over Cincinnati. He followed that up with four goals, including the game-winner, in a 6-3 road win in Cleveland. He was also a +4 on the weekend. Desrosiers (6'2/175) leads the Xpress in scoring with 24 points in 17 games played. "Brandon is playing at a high level right now. From day one he has come in and established himself as a leader for our hockey team. Brandon's work ethic, character and compete level make him a bona fide NCAA prospect and a player we will continue to rely on," said Xpress head coach Rylan Galiardi.
2nd Star: Brian Baker, G, Pittsburgh Vengeance
Honorable Mention (alphabetical): David Bogart, D, Toledo Cherokee – Brandon Kruger, G, Cincinnati Swords – James Schroeder, G, Cincinnati Swords
Frontier Division Star of the Week: Cade Boreing, forward, Gillette Wild
Thanks to a pair of wins over the weekend, the Gillette Wild find themselves in 2nd place in the Frontier Division. Forward Cade Boreing, 18, played a big part in the Wild's weekend home-and-home sweep of Yellowstone. On Friday, Boreing (5'11/160) scored one of two goals in a 2-0 shutout over the Quake. On Saturday, the native of Highlands Ranch, CO, had a hat-trick, including the game-winning goal, and an assist in an 8-1 win. His 15 points to date ranks 2nd on the Gillette roster. "Cade is a player who finds success through his work ethic. He goes to the tough areas on the ice, pays the price and is rewarded for that type of effort," said Gillette head coach Tom Winkler.
2nd Star: Cole Semchak, G, Billings Bulls
Honorable Mention (alphabetical): Cameron Birklid, F, Billings Bulls – Sean Kelley, G, Gillette Wild – Sean Leahy, G, Yellowstone Quake – Lucas Lomax, F, Great Falls Americans – Zack Mese, F, Great Falls Americans
South Division Star of the Week: Justin Dunn, forward, Point Mallard Ducks
At the South Division Showcase this past weekend, one player stood out among many notable performances as Point Mallard forward Justin Dunn, 18, lit up his opponents in the three games. The native of Trenton, MI helped the Ducks pick up wins in all three games as they climbed the South Division standings. In the three wins, Dunn (5'11/165) had 10 points, which included three goals and seven assists. On Friday, he scored the game-winning goal and had two assists in a 6-1 win over Sugar Land. On Saturday, Dunn had a goal and three assists in a 4-3 win against the Texas Jr. Brahmas. On Sunday, he finished his weekend with another goal and two more assists in an 8-4 win over Dallas. "Ryan showed a lot of patience and poise with the puck. He is seeing the ice really well and is gaining confidence every day. He has the ability to slow the play down and not force things. His biggest play on the weekend was when he scored a one timer from a back door pass from Grant Dukus. We were down 3-2 at the time late in the 3rd and his goal forced the game in OT," said Ducks head coach Craig Bushey.
2nd Star: Grant Dukus, F, Point Mallard Ducks
Honorable Mention (alphabetical): Anthony Chesrow, F, Sugar Land Imperials – Matt Jung, F, Sugar Land Imperials – Rudy Kalvitis, D, Nashville Jr. Predators – Nathan Klebe, G, Nashville Jr. Predators – Colin O'Conner, D, Topeka Capitals – Richard Yusa, F, Topeka Capitals
West Division Star of the Week: Johnny Panvica, forward, North Iowa Bulls
The North Iowa Bulls kept their winning streak going with two tough home wins over the Alexandria Blizzard this past weekend. 19-year-old forward Johnny Panvica continued his hot play with a four-point weekend, which included a goal and three assists. The native of Bloomington, MN started the weekend with a goal and two assists in a 5-4 win on Friday night. On Saturday, Panvica (5'8/175) picked up an assist in a 5-1 win. He was also a +3 for the weekend. Panvica is one of the hottest players in the league, as he is currently riding a nine-game point streak and has 19 points in 12 games this season. "Johnny had another great weekend. He continues to show his unselfishness with his playmaking ability, and when needed he has been burying the puck. He is fun to watch and continues to show each week that he is an elite player in this league," said associate head coach Mark Hicks.
2nd Star: Robbie Goor, G, Twin City Steel
Honorable Mention (alphabetical): Tommi Ahlgren, G, North Iowa Bulls – David Kenney, F, Granite City Lumberjacks – Travis Kothenbeutel, F, Granite City Lumberjacks – Kyle Wagner, F, Twin City Steel