Jets captain Chavis II gets call to the NAHL
November 13, 2014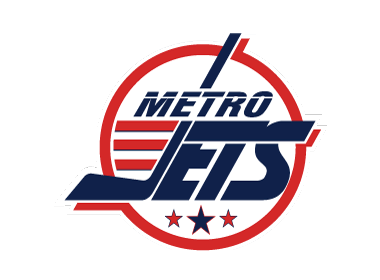 By Matt Mackinder
For the second time in as many days, the Metro Jets have sent a player to the North American Hockey League.
On Tuesday, forward Matt Dempsey was called up by the Keystone Ice Miners and then Wednesday, defenseman and team captain David Chavis II hopped on a plane to join the Minnesota Wilderness.
"Losing another key player and our captain is always difficult," said Jets' head coach Justin Quenneville. "At the end of the day, development is most important and we pride ourselves on providing those elements here with Metro. This now gives others in our lineup more opportunity to step up as well."
Chavis played last year in the NAHL with the Odessa Jackalopes and then joined the Jets at the start of the North American 3 Hockey League season. The 19-year-old Grosse Pointe Woods, Mich., native tallied four goals and 13 points in 20 games for the Jets, while his plus-15 rating is fifth among all NA3HL players.
"The call-up means that the hard work I've put in with the Metro Jets is starting to pay off," said the 6-foot-4, 205-pound Chavis. "I plan on taking advantage of it by playing consistent, hard-nosed hockey and earning a spot everyday I'm there. It's hard to get where I'm going and even harder to stay. Now the real work begins.
"I also need to buy into the system the coaches have in place for the team to succeed. If I can do all this, it should really help my chances to stay at this level."
Forward Kevin Shand earned the call to the NAHL's Springfield Jr. Blues last month before Dempsey went to Keystone on Tuesday.
Chavis gave credit to Quenneville and Metro assistant coach Randy Wilson for helping him earn the opportunity to get back to the NAHL.
"They've been the guys behind the scenes calling teams for me and looking around to help me move up," explained Chavis. "On top of that, without their advice and coaching, I wouldn't have been ready to play at the next level. If I continue to work hard as I have been, I can earn a spot and stay in the NAHL."
Quenneville is banking on Chavis staying in Minnesota for the long haul.
"'Chav' stepped in and made an immediate impact on our 'D' core and he brought leadership and experience, but he also put in the necessary work to give him an opportunity to move up," Quenneville said. "I know (Wilderness head coach) Cory (Millen) and the coaching staff in Minnesota and they can expect a class player who will bring balance and size to the back end.
"We wish nothing but the best of luck to David and the Wilderness."
Minnesota plays on the road this weekend against the Minot Minotauros.