Metro players Sawyer and Newel get call to the NAHL
January 12, 2015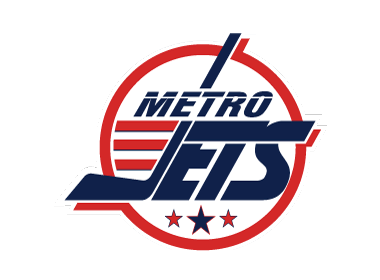 By Matt Mackinder
Another day, another player advancement for the Metro Jets of the NA3HL.
Or in this case, two more advancements.
Having already sent four players up to the North American Hockey League this season, the Jets have two more on their way this week in rookie forwards Andrew Sawyer and Jason Newel, both of whom will report to the Aberdeen Wings.
Sawyer and Newel, who have also been linemates for the majority of this season, join forwards Kevin Shand (Springfield Jr. Blues) and Matt Dempsey (Keystone Ice Miners), defenseman and captain David Chavis II (Minnesota Wilderness) and goaltender Jake Stephan (Michigan Warriors) as NAHL call-ups during the 2014-15 season.
"Getting a chance to play in the NA has been one of my goals for a while now, starting back in high school," said Sawyer, a native of Trenton, Mich. "I've tried to improve all areas of my game with a lot of focus on my strength and speed because each level requires more of those."
Sawyer finished his high school career at Trenton High School with a Division 2 state title last spring and having that winning pedigree is something that the Jets' staff found appealing.
"Andrew is one of the most coachable players I have had the pleasure to work with," Metro head coach Justin Quenneville said. "He is accountable for his development and he bought in to the process. Andrew is a character young man who is deserving of this opportunity and we wish him luck."
This season with the Jets, Sawyer has tallied seven goals and 24 points while playing in all 33 games.
"'Q' and (Jets' assistant coach) Randy (Wilson) have done a lot for me this season," added Sawyer. "I've learned a lot about playing without the puck and playing a more complete style rather than just being a guy that's good in the offensive zone. They've really helped me develop my skill and become a player that's ready to move up.
"I can't thank the Jets organization enough for what I've learned from them. I'm fortunate enough to be on the list of guys that have had a chance at the next level and that has a lot to do with the coaches. Q and Randy both have great connections, lots of experience with coaching, a strong passion for the game and an impressive work ethic. Along with the coaches, my teammates are all great and very supportive of each other. I'm extremely grateful to have had the chance to be a Jet."
For Newel, who has contributed 13 goals and 24 points in 28 contests, the Canton, Mich., product and former star at Plymouth Salem High School, getting an opportunity to show he is NAHL-ready has been at the top of his priority list since the summer.
"All season, my main goal was to win games and earn a shot in the NAHL," Newel said. "I've worked a lot on my shot and puck movement and have tried to improve my net-front presence. Coach Q and Randy have really helped me improve my game this year. They tell me the small things that I could do to greatly improve my game and they are very positive and want the best for their players. They sacrifice a lot of time and effort to help their players reach their highest potential.
"The Jets organization is a great organization to be a part of if you are trying to move up and play at a higher level. Throughout the season, you can see all the players improving and playing at a higher level than they started the year playing. The program focuses on your development as a player and preparation for your future goals in hockey."
"Jason is deserving of this opportunity and will need to continue to use his size and power around the net in the NA," Quenneville added. "He has come a long way since the first game the season. He is another great example of the product we look to continue to help develop here at Metro - a player who bought in to the process, listened, worked and executed. We wish Jason luck with Aberdeen."
Both players are expected to report to Aberdeen this week and could be in the lineup this weekend when the Wings host the Minot Minotauros for two games Friday and Saturday night.
"I don't know much about Aberdeen, but I've heard a lot of positives about their coaching staff, their rink and their fans," Sawyer said. "I just need to stay calm, work hard and play my game because trying to be someone else is not going to help me."
"I know Aberdeen is a very hockey-oriented city and I plan on showcasing my skills while playing physical and working hard with and without the puck," Newel said. "It's exciting to get this opportunity with my teammate and linemate. We've been doing very well together on the Jets and I hope to keep playing with him in the future."