Brahmas players called to NAHL once again
January 22, 2015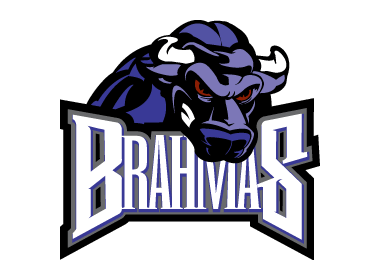 The NA3HL's Texas Jr. Brahmas had a successful weekend despite not playing any divisional games. Seven Jr. Brahmas were called up to play in the North American Hockey League (NAHL) last weekend. It continues a trend of a record amount of NA3HL player movement to the NAHL during this season.
Brahma forwards Ryan Dunner, Devin Pierce, Sam Gagnon, Paolo DiGenova, defensemen Nick Nitta, and goaltender Tristan Canter all dressed for the Rio Grande Valley Killer Bees on Saturday, January 17 against the Wichita Falls Wildcats. A severe illness had stricken almost half of the Killer Bees team and the Brahmas players stepped in without missing a beat.
"These guys have been working very hard this season and this is a nice reward," head coach Al Rooney said. "Even though it was a quick turnaround time on the call up, my guys sprung into action and I knew my guys were well prepared for this opportunity."
Even though Rio Grande Valley fell 2-0, the Brahmas players logged quality ice time and created a few chances for themselves. Pierce, a former NA3HL South Division player of the week, led the way with two shots on goal.
Both Wildcat goals came on the power play when the Brahmas were not on the ice. Additionally, the five skaters did not commit a penalty.
Across state lines, Brahmas goaltender Joe Hacker took the bus to Topeka with the Lone Star Brahmas to face the top-seeded Topeka RoadRunners.
Hacker was used as a back-up goalie for the weekend series and even though he didn't take the ice, Rooney was still excited for Hacker to experience the NAHL.
"His game has come a long way both through on and off ice habits that he has developed throughout the year. He's really grown as a player," coach Rooney said. "This was a nice taste of what he can expect if he keeps progressing the way he's progressing."
The Fairless Hills, Pennsylvania native has won his last three starts (7-6-3) and he leads the Jr. Brahmas with a 2.81 goals against average and .900 save percentage.
The NA3HL is known for preparing players to compete in the NAHL, and this past weekend was no different. This league allows players to advance their playing careers and it shows that NA3HL players can learn to adapt to the pace of the NAHL.
Texas leads the NA3HL South Division with nine player call-ups over course of season. Defenseman Kurt Thiele and forward Jon Severson are the other two.