NA3HL announces Easton Hockey Divisional Stars of the Week
January 27, 2015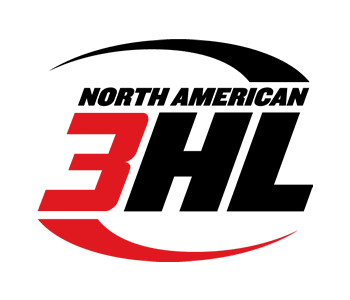 The North American 3 Hockey League (NA3HL) today announced the Divisional Stars of the Week presented by Easton Hockey for the week ending January 25, 2015. The divisional stars of the week is an award given each week of the regular season to the top performing players in each of the five divisions of the NA3HL as nominated by their head coaches.
Central Division Star of the Week: Toms Taurins, forward, Chicago Jr. Bulldogs
Exactly a quarter of Toms Taurins points to date came this past weekend as the Chicago Jr. Bulldogs played a three-game weekend home set. The 19-year-old native of Plainfield, Illinois, totaled nine points in the three games as Chicago went 1-2. On Friday, Taurins (5'10/164) had two goals and an assist in a 5-3 loss to West Michigan. On Saturday night, Taurins had another goal in a 6-3 loss to St. Louis and on Sunday, Taurins had a goal and four assists in a 7-4 win over the Jr. Blues. Taurins leads the Bulldogs in scoring with 36 points in 38 games played. "Toms is a sturdy lead by example player. He can play any position on team and he has for the Bulldogs. His excellent play making ability goes unnoticed until you check the game stats where you see Toms efforts appear in the number points he has accumulated. The Chicago coaching staff will be leaning on him and his line mates Ryan Maksimovic and Tyler Seltenreich hard as the Bulldogs make a push for the playoffs," said Chicago General Manager Ken Kestas.
2nd Star: Ryan Maksimovic, F, Chicago Jr. Bulldogs
Honorable Mention (alphabetical): Mike Difranco, D, West Michigan Wolves – Ben Henderson, F, La Crosse Freeze – Peter Henderson, F, Wisconsin Whalers – Brandon Mezuk, F, West Michigan Wolves – Evan Moyse, G, Wiscosin Whalers – Zeth O'Bryan, F, St. Louis Jr. Blues – Brian Schumacher, F, St. Louis Jr. Blues – Daniel Toycen, F, La Crosse Freeze
East Division Star of the Week: Alec Rounds, goalie, Cleveland Jr. Lumberjacks
Cleveland goalie Alec Rounds put in another MVP worthy weekend as he led the Lumberjacks to a weekend home-and-home sweep of the Southern Tier Xpress. The 20-year-old native of Laguna Beach, California, stopped 84 of 87 shots in the two wins as Cleveland gained ground on the final playoff spot in the East. On Friday night, Rounds (6'2/187) made 45 saves in a 3-2 overtime win. On Saturday night, Rounds made 39 saves in a 4-1 win. Despite having a 12-11-2 record, Rounds is tied for 4th in the NA3HL with a 93% save percentage and ranks 3rd in games played. "Alec continues to be a leader both on and off ice for us. He has consistently played at a high level and helped us remain in the hunt for a playoff spot," said Cleveland head coach Bob Jacobson.
2nd Star: Nils Markgren, F, Pittsburgh Vengeance
Honorable Mention (alphabetical): Brian Baker, G, Pittsburgh Vengeance – Tyler Dalton, F, Cleveland Jr. Lumberjacks – Cody Estrel, F, Toledo Cherokee – Kameron Limburg, G, Metro Jets – Cooper McLean, F, Metro Jets
Frontier Division Star of the Week: Blake Evennou, defense, Glacier Nationals
It was a big weekend for 16-year-old Blake Evennou and the Glacier Nationals, who swept a two-game set from the Yellowstone Quake on the road. The defenseman from Macomb, Michigan, who is one of the youngest players in the league, had a big weekend totaling five points in the two wins along with a +4 rating. On Friday night, Evennou (5'8/165) had a goal and an assist in a 3-2 win. On Saturday night, Evennou was even better with three assists, all on the power play, as Glacier came away with an 8-5 win. Evennou now has a point in five straight games and for the season, leads all Glacier defensemen in scoring with 16 points in 33 games played. "After a long three-week fight with bronchitis, Blake played very well on both ends of the ice. His coachability and adjustments on the power play from one game to another really shows he listens and adjusts well. The new power play is truly a team effort," said Glacier head coach Butch Kowalka.
2nd Star: Alex Feese, G, Gillette Wild
Honorable Mention (alphabetical): Jay Forbes, F, Helena Bighorns – Tommy Kaddatz, F, Glacier Nationals – Grant Martens, G, Helena Bighorns – Kyle Reilly, F, Gillette Wild – TJ Theodosopoulos, F, Billings Bulls
South Division Star of the Week: Ryan Dunner, forward, Texas Jr. Brahmas
Texas forward Ryan Dunner, 18, returned from his stint in the NAHL and had an immediate impact for the Jr. Brahmas as they took two of three games from the visiting Sugar Land Imperials. In the three games, the native of Glassboro, New Jersey had 11 points and was a +5. Dunner (5'10/175) began the weekend with three assists in Friday's 5-2 win. On Saturday, Dunner had four goals, including the game-winner, and an assist in an 8-1 win. On Sunday, Dunner had a goal and two more assists in a 7-5 loss. In 35 NA3HL games played this season, Dunner has 41 points. "Ryan has really matured as a player on and off the ice for us this season. He's really bought into playing a more structured game and in doing so his offensive production has taken off. It was great to see him rewarded with a call up to the NAHL last weekend for Rio Grande, and he returned an energized player for us. He has speed to burn and was a real offensive force for us this weekend," said Texas head coach Al Rooney.
2nd Star: Justin Dunn, F, Point Mallard Ducks
Honorable Mention (alphabetical): Anthony Galliart, G, Dallas Jr. Stars – Josh Hamilton, F, Point Mallard Ducks – Chris Mallon, G, Dallas Jr. Stars – Matt Winkle, F, Sugar Land Imperials – Ryan Worley, F, Sugar Land Imperials
West Division Star of the Week: Evan Bisek, goalie, Alexandria Blizzard
Alexandria goalie Evan Bisek, 19, was plenty busy this weekend and faced a tough task of trying to help the Blizzard win two road games in North Iowa against the division-leading Bulls. Bisek (5'11/200) and the Blizzard came out of the series with three of a possible four points in the process with the native of New Prague, Minnesota facing 85 shots in the two games. On Friday, Bisek made 39 saves in a 7-5 win. On Saturday, he made another 39 saves in a close 3-2 shootout loss. For the season, the second-year NA3HL goalie has a 15-5-1 record with a 3.04 GAA and a 90.7% save percentage. "Evan has really picked up his game as of late. He has been much more focused and determined lately which has carried over onto the ice. I look forward to watching his current success throughout the rest of the season and playoffs," said Alexandria head coach Jeff Crouse.
2nd Star: Bo Gronseth, F, Alexandria Blizzard
Honorable Mention (alphabetical): Jake Johnson, F, North Iowa Bulls – Adam Orn, D, North Iowa Bulls – Jay Paul, F, Twin City Steel – Luke Richardson, F, Granite City Lumberjacks – Jared Sprink, F, Granite City Lumberjacks – Kyle Wagner, F, Twin City Steel