St. Louis defenseman Brown gets call to the NAHL
January 29, 2015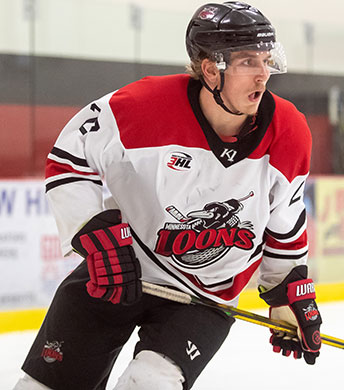 St. Louis Jr. Blues and NA3HL defenseman Chris Brown has earned a weekend call-up to the NAHL from the Springfield Jr. Blues.
Brown is an 18-year-old defenseman that has been one of the Jr. Blues steadiest defenseman this season. He has notched 21 points in 37 games this season.
Head Coach Chris Flaugher said, "This is a great opportunity for Chris to show he can play at the NAHL level. He has been our most consistent defenseman all season and we use him in every situation and frequently double shift him."
Brown will be leaving this weekend despite a weekend series with Peoria.
Flaugher said, "Even if we were in contention for a league title or home ice for the playoffs, it wouldn't matter. We are here to help players move regardless of our situation. We lost two of our most skilled forwards earlier this year to situations that were better for them to progress and reach their goals. If Chris gets a chance to stay the rest of the season, we would send him with no regrets."
Brown will skate this week and play this weekend.
Brown is just the latest NA3HL player to have received a call-up to the NAHL. To date, a record number of over three dozen players have been called up or tendered by NAHL teams this season.