Quake players quietly give back
February 5, 2015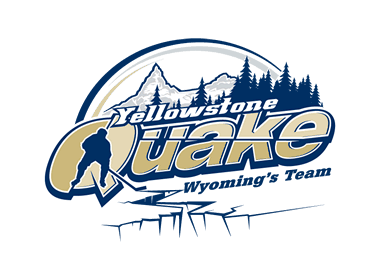 By Lew Freedman, Cody Enterprise
They were a troop of ants at work – lifting, carrying, climbing.
A dozen members of the NA3HL's Yellowstone Quake hockey team paraded 2x12-foot slabs of drywall from the front yard to the second floor of an unfinished house. There is a pervasive image, true in some cases, not true in more cases than the public acknowledges, of the rich, spoiled athlete out for all he can get and everyone else get out of the way.
This sense of entitlement is more prevalent in the pros where players make millions of dollars and live like royalty. But, yes, the attitude sometimes trickles down to amateurs. Probably more than the average fan realizes, athletes engage in selfless, charitable acts. Wealthy ones start foundations for a cause and pour in millions of dollars.
Athletes without fat bank accounts give back in other ways. Quake players recently donated time and muscle to the Operation Finally Home project being spearheaded by McClure Custom Builders. This house will go to disabled veteran James Butz, his wife Donna and their two children. Forklifts eased thick piles of drywall onto the dirt that will become a lawn. Then the players transported them in to the soon-to-be house.
Butz, 46, a former member of the Wyoming Army National Guard and Coast Guard, resembled an expectant father with a smile on his face. No wonder, because the long-underway construction has a projected completion date of March 17, St. Patrick's Day, according to Robin McClure. She and husband John organized this first-in-Wyoming, built-from-scratch house for a veteran under the nationwide program.
A one-time participant in football, wrestling and track, who did play some pond hockey, Butz contends with an injured leg. "Did they at least offer to feed you guys for your manual labor?" he asked the players. If one calls bottled water and glazed doughnuts a meal, then yes.
It was mid-morning and the Quake had finished practicing at Riley Arena. Coach Tom Maroste, who was in there lifting with his guys, said 10 players were expected and 12 volunteered.
The point of community involvement, said team president Bob Bole, is showing the fans who clap for you that you also care about them.
Unlike high school teams, or professional teams where players either grow up in the community or become deeply rooted in a town through longevity, Quake players mostly are transient.
They are young men ages 16-20 from Minnesota, Wisconsin, Michigan, and North Dakota. They may be in Cody for one six-month stint or at most a couple of seasons.
The young players are supposed to continue their hockey education, but Bole wants them to develop a positive value system, too. Life is not all about body checks, but maybe checks and balances.
Read the rest of the feature story
here