Pittsburgh defenseman Cummings gets call to NAHL
February 11, 2015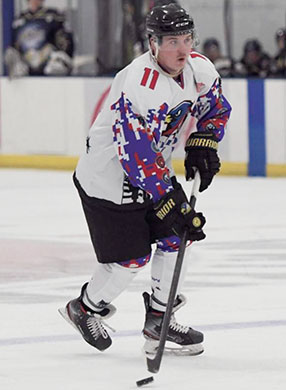 The Pittsburgh Vengeance are proud to announce 96 born defenseman Gavin Cummings has been called up to the Rio Grande Killer Bees of the NAHL for the remainder of the season.
"This will help Gavin develop his game more and at the end of the day that's the most important thing", said Coach Dorsey. "This is a developmental league and our job as coaches is to prepare these kids to play at the next level," added Dorsey. The Killer Bees play their next game at home on Thursday, Feb 12 against the Lone Star Brahmas.
Cummings had a tremendous season in the NA3HL during the 2014-15 campaign. At the time of his call up, Cummings ranked 2nd among all NA3HL defensemen in scoring with 36 points in 39 games played.
He was also selected to the 2015 NA3HL Top Prospects Tournament to respresent the East Division, but will have to bypass the event because of his call-up to the NAHL.
The NAHL is the only USA Hockey-sanctioned Tier II Junior league boasting 24 teams in 11 states from across North America providing unparalleled opportunities for players to train and develop. They pride themselves on the social maturity and skill development of student-athletes ages 16-20 with aspirations of advancing to collegiate and/or professional hockey.
This has been a record year for player advancement in the NA3HL. Through February, 35 NA3HL skaters have either signed tender forms with Tier I or II junior teams or been tapped by sides in the Tier II North American Hockey League to play for a game, a weekend series or even the remainder of the season. Furthermore, even more players have skated with higher-level clubs during weekday practices, giving them both additional time to hone their skills and valuable exposure to coaches and scouts.