NA3EHL announces Easton Hockey Stars of the Week
February 18, 2015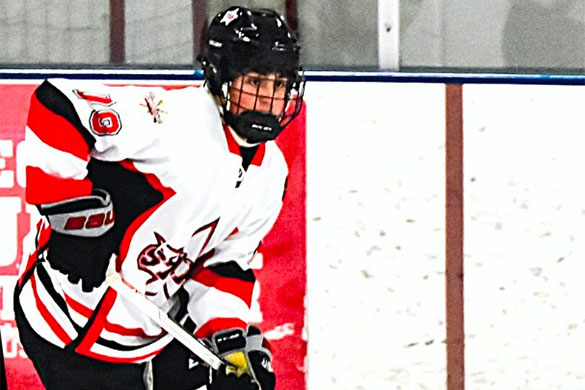 The North American 3 Eastern Hockey League (NAHL) today announced the Offensive and Defensive Stars of the Week presented by Easton Hockey for the week ending February 15, 2015. The Stars of the Week is a weekly feature during the 2014-15 regular season that honors the top performing players, both offensively and defensively.
Offense: Daniel Leisser, Wilkes-Barre Miners
Daniel Leisser of Vienna, Austria led the Wilkes-Barre Miners to a big weekend scoring 12 points in 3 games as they took 5 of 6 important points from the Roc City Royals. The series secured a playoff spot for the Miners. Daniel had 3 assists on Friday in a 6-5 Overtime Loss. Remaining a central figure in his team's offense, Daniel had 1 goal & 4 assists in a 7-4 victory on Saturday. To put a HUGE Exclamation Point on his weekend, Daniel scored a Hattrick and added 1 assist in a dramatic come from behind 7-6 Overtime Win on Sunday. Along the way on Sunday, Daniel scored the game-tying goal to force overtime and settled the contest by scoring the winner. Daniel had a hand in 12 of his team's 19 goals (63%) for perhaps the best single offensive weekend of the season, especially impressive given playoff spots were on the line.
Defense: Ludvig Kullen Dansarie, Syracuse Stampede
Ludvig Kullen Dansarie of Stockholm, Sweden and the Syracuse Stampede's #1 goalie was given Saturday night off as his team took on the highly regarded Lockport Express in a late season home game. After a scoreless 1st period, Lockport came out guns blasting in the 2nd, scoring 3 straight goals (two shorthanded) to chase the Stampede starter from the game. Dansarie entered and virtually shut the door on Lockport as he saved 24 of 25 shots and helped his team stay in the playoff picture with a fantastic 5-4 come from behind Overtime Win. The Stampede were not so lucky on Sunday with a 6-1 setback, as Ludvig registered a 50-save effort during the contest.