West finishes on top at the NA3HL Top Prospects
February 25, 2015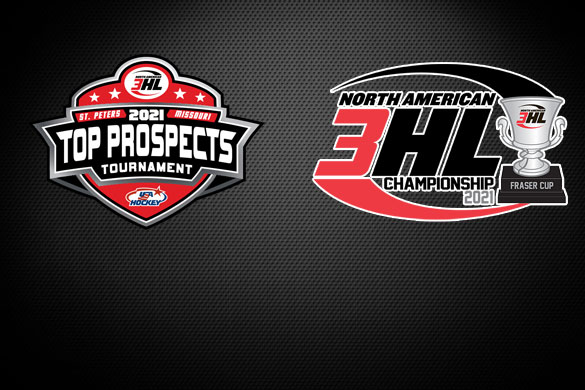 In the final day of the NA3HL Top Prospects Tournament in Ann Arbor, a win by the West team secured a 2-0 record and the right to call themselves Top Prospects Champions, as they were the only club at the event to finish with a 2-0 record.
The NA3HL 18U Selects also picked up a win on Tuesday, finishing the event with a 1-0-1 record and three points. Frontier, Central and East all finished 1-1, while South went 0-2.
Over 200 NHL, NCAA, college and junior scouts attended the event, which was combined with the NAHL and NAPHL Top Prospects Tournaments.
Click here for event results and stats
Game 1, NAHL 18U Selects 5 vs. South 4 - Undaunted by a three-goal deficit, NA3HL 18U Selects battled back to claim a 5-4 victory over South. NA3HL 18U Selects let multiple leads slip away before eventually digging out of a three hole to pick up the win. NA3HL 18U Selects took a 1-0 advantage on a goal by Travis Kothenbeutel at 13:41 in the first period. NA3HL 18U Selects went down 4-1 after South's Kyle Rimbach put the puck home at 17:06 in the second period. After evening things up at 4-4 on a goal by Devin Panzeca at 13:18 in the third, NA3HL 18U Selects got the game-winner from Kohei Sato on a breakaway at 19:44 in the third period. Panzeca was all over the ice for NA3HL 18U Selects, as he finished with two goals in the win. NA3HL 18U Selects also got points from Sato, who also registered one goal and one assist. Max Doner also scored for NA3HL 18U Selects. More assists for NA3HL 18U Selects came via Sam Maddox, who had two, Jake Cox, who had three, and Adam Havener, Dominic Costello, and Zach Greenwood, who each chipped in one. South was helped by Hank Roers, who had one goal. Roers scored 8:05 into the second period to make the score 3-1 South. Matthew Jung picked up the assist. South additionally got points from Jung, who also grabbed one goal and one assist to lead the team in points. South also got a goal from Kyle Van Wyk as well. In addition, South received assists from Mykyta Sheptytsky, Nick Nitta, Tyler Valentin, Justin Dunn, Ryan Dunner, Trent Kulczyk, and Colin OConnor, who contributed one each. Lauren Massie made nine saves before being replaced by Denijs Romanovskis, who took the win and made 13 saves. Chris Mallon made 24 saves for South on 29 shots. Boxscore
Game 2, West 7 vs. Central 3 - West's Dylan Zins had a big offensive game, scoring one goal and contributing two assists in his team's 7-3 win over Central. Zins scored 7:01 into the second period to make the score 1-0 West. Tom Schmidt provided the assist. Zins dished an assist on Bo Gronseth's goal that made the score 2-0 West at 9:07 into the second period. He added another helper on Joe Kleven's goal that made the score 7-3 West at 19:59 into the third period. West forced Central's netminders to work in net, totaling 44 shots and forcing 37 saves. Cameron Schueren made 23 stops and Hunter Vorva made 14. West also got points from Kleven, who also registered one goal and two assists, Trey Gardner, who also racked up one goal and one assist, Travis Johnston, who also had one goal and one assist, and Gronseth, who also tallied one goal and one assist. West also had goals scored by Jared Erickson and Joe Burgmeier, who each put in one. In addition, West received assists from Corey Taylor, Ryan Mezera, Lance Carney, Michael Orke, Tanner Skaja, and Tyler Larwood, who contributed one each. Central was led by Dakota Ulmer, who registered one goal. Ulmer scored 5:06 into the third period to make the score 5-3 West. Others who scored for Central included Ryan Martin and Marshall Gevers, who scored one goal each. Robbie Goor rejected 31 shots on goal for West. Boxscore
Game 3, East 5 vs. Frontier 4 - The game between East and Frontier was tight through all 60 minutes, but in the end East emerged with a 5-4 win. No lead was more than two goals during the contest, and the winning goal was scored by Tyler Zalecki at 17:53 of the third period. Zalecki had two goals to lead East to victory. East also got points from Hunter Schneider, who also finished with one goal and one assist. East also had goals scored by Pearce Vance and Mark McGee, who scored one goal each. Other players who recorded assists for East were Cody Estrel, who had two and Tim Weisgerber, Luke Sunde, Eli Lynn, Brenden Williams, and Michael Straub, who each chipped in one. Frontier was helped by Lucas Stover, who grabbed one goal and one assist. Stover scored 17:32 into the second period to make the score 4-3 East. Ian Wiljanen assisted on the tally. Frontier additionally got points from Kendall Bolen-Porter, who also had one goal and one assist. Others who scored for Frontier included Lucas Lomax and Gunnar Mogck, who each put in one. In addition, Frontier received assists from Arseny Ivanov, Bryce Mitzel, Lance Pennington, Matt Gamblin, and Sawyer Scanlan, who contributed one each. Brian Baker rejected 25 shots on goal for East. Grant Martens recorded 26 saves for Frontier. Boxscore