Bozeman beats Helena on Thursday to put Americans in driver's seat
February 27, 2015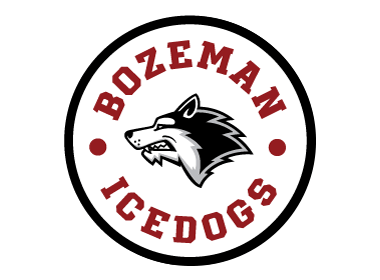 Helena 2 @ Bozeman 4 - The Helena Bighorns tried their best to erase a three-goal deficit, but the Bozeman Icedogs would not be denied the victory and hung on to win, 4-2. The win put the Great Falls Americans in the driver's seat for the Frontier Division title, needing just one more win to do so.
Bozeman took a 4-1 lead during the third period, only to have Helena storm back on a Brandt Miller goal 18:44 into the third period to pull to two goals down.
Steven Nisbet was all over the ice for the Icedogs, as he tallied two goals and one assist in the win. Nisbet scored the first of his two goals on the power play at 4:16 into the second period to make the score 1-1. Bozeman had gotten the advantage when the Bighorns' Cody Vanthournout was sent off for head contact. Kegan Couture picked up the assist. Nisbet's next tally on the power play made the score 2-1 Bozeman with 14:47 left in the second period. A cross checking penalty on Jay Forbes had put the Icedogs on the power play. Gunnar Mogck provided the assist.
Bozeman also got points from Mogck, who also tallied one goal and one assist. Bozeman also got a goal from AJ Odell as well. In addition, Bozeman received assists from Jake Nicks, John Dixon, and Cole Blatter, who each chipped in one.
The Icedogs were unable to stop the Bighorns from sending pucks towards the net, and Helena eventually piled up 32 shots on goal.
More assists for Helena came via Daniel Liberko, Elliot Hopkins, and Gavin Lubin, who contributed one each.
Bozeman's Denijs Romanovskis stopped 30 shots out of the 32 that he faced. Adam Ranck rejected 15 shots on goal for the Bighorns.