Billings goalie Meagher recovering from major head injury
February 27, 2015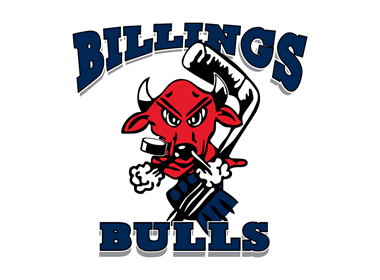 By Ryan Minch, Billings Gazette
In the blink of an eye, the complexion of Alex Meagher's hockey career took a frightful turn Saturday night.
The Billings Bulls goalie is recovering from what head coach Joe Deptula is calling "a major head injury" that left him motionless on the ice for several minutes in Gillette, Wyo.
"It was a play I've never seen before," Deptula said earlier this week. "It was just one of those things that you see it happen and you kind of look away and then realize, wait a second, that didn't look right."
And it wasn't.
"I knew right away that the way his head hit the ice and how hard he hit it, that he was hurt bad," Bulls leading scorer Tristan Heinrichs told The Gazette. "It was a very scary situation."
Playing for the first time this season in front of his parents and other family members, Meagher made a save off a rebound while falling backward with 40 seconds to play. As he did, a Bulls and Wild player collided in front of the net. The Gillette player landed on Meagher, whose head slammed off the ice, rendering him unconscious.
"It's just one of those freakish plays that happens," Deptula said. "Their player was crashing the net and our guy did what he has been taught to do."
After the collision, the Bulls medical staff, headed by Brenda Brady, tended to Meagher for several minutes before he was carted off the ice on a stretcher. Meagher was transferred by ambulance to Campbell County Health Center in Gillette, where he finally regained consciousness and underwent a CT Scan.
Per social media reports from Meagher's family that were relayed by the Bulls, the 20-year old goalie did not respond to tests as well as doctors would have liked. He was subsequently airlifted — with his mother by his side — to a Billings hospital.
"Every brain injury is different," said Terry Cahill, Meagher's physician. "Most of the time you'll have something show up on a (CT) scan that gives you a little bit of a direction to go in. Alex's scan's really don't show any brain damage that you would associate with the traumatic brain injury that he suffered."
Cahill added that Brady, who is on the Billings Clinic Sports Specific Training staff and is the Bulls' head trainer, was very instrumental in getting Meagher airlifted to Billings.
"Brenda acted very quickly and recognized that Alex needed some more extensive testing that wasn't readily available in Gillette," he said.
Deptula joined Meagher and his mother, Kelly Meagher-Pitlick, at the hospital around 3:30 a.m. Sunday after the team returned to Billings. His father, Scott, drove the other family members back to South Dakota.
"Coach Joe was right there in the emergency room as soon as the team got back," Meagher-Pitlick said. "Scott drove the other family members home and he was just kind of waiting to see what the next steps were going to be."
Once in Billings, tests ruled out a significant neck or back injury. But cause for concern remained. The jovial and spirited goalie was unable to use his right side and was having difficulties responding to commands by doctors.
"It's been a roller coaster," Meagher-Pitlick said. "From him being unresponsive on Saturday night and not being able to squeeze your hand or grip something when asked, to him regaining strength in that right side to him losing that again the next day, it's been very up and down."
Meagher began physical therapy Tuesday at Billings Clinic and was transferred to St. Vincent's New Hope Rehabilitation department Wednesday. He's expected to remain at New Hope for 7 to 10 days according to his mother.
"It's good to have him here in Billings," Semchak said. "We can get updates on his condition and see him improving instead of guessing and wondering. And it's good for him because we're trying to make his recovery time and time being in the hospital go as quickly as possible."
Meagher himself provided one of those updates via Facebook on Tuesday evening.
"Thank you everyone for all of the support and prayers," he posted. "They are definitely helping. It's hard to think how fast life can change … playing hockey one day to waking up six hours later (and) not being able to feel your leg."
Read the rest of the story
here