Helena duo makes NCAA commitments
March 6, 2015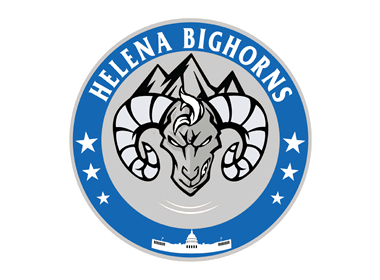 On August 5, 2014, in front of over 30 members of the press and brand partners, Bighorns Head Coach/GM Jon Jonasson laid out a goal for moving players up to the next level. Today, he is pleased to show the realization of that goal, by announcing two Helena Bighorns who have committed to playing NCAA Division III hockey next fall: Defenseman Nick Trefry and Forward/Team Captain Brandt Miller have committed to Northland College in Ashland, Wisconsin.
"We are very proud of both Trefry and Miller," Coach Jonasson stated. "They both worked hard all year long to earn a spot on an NCAA team and they reached their goals through perseverance and a high work ethic."
Trefry, described as an offensive defenseman, finished the NA3HL regular season as the second leading scorer among defensemen this year with 46 points (he was a mere two points shy of claiming the top spot, as the leader finished with 47). Nick is a hard working young man but also values his teammates and will be a great addition to the Lumberjacks locker room. "I chose Northland because of their location, their business program and also their hockey program", Trefry said. "[Coach Gregory] is excited to have me and hopes I can be an impact player right away."
Captain Brandt Miller also finished second in scoring for the league, among the NA3HL's most prolific scorers in the regular season with 25 goals and 43 assists. Miller leaves Helena as the first multi-year Bighorn to commit to college this fall. "It's a school that fits me not just with the hockey program but fits my academic goals as well", Miller offered. "I've spoken with the coach there and he's very excited about the future and what we can do together."
The Northland College Lumber Jacks compete at the NCAA Division III level, in the Northern Collegiate Hockey, coached by Seamus Gregory. Located in Ashland, Wisconsin, "Northland College is a private liberal arts and sciences college with a progressive focus on the environment and sustainability. Our innovative curriculum and distinguished faculty draw students from across the country who come to be a part of a powerful educational community.
Jonasson states "The NA3HL has proved to be a great training ground for player advancement and we pride ourselves in developing our student athletes, and working to advance them to the next level. "
Trefry spoke to the preparation he received as a Bighorn that lead him to the opportunity to play college hockey: "Playing in Helena taught me a lot about being a leader and staying consistent, both on and off the ice".
Miller says that "playing in different roles over the last two years with the Bighorns has really prepared me for college hockey. Whether you're a fourth-line grinder or a first line leader, you always have to work hard and make sure you're doing your job."