Jets forward Koonce makes college commitment
March 9, 2015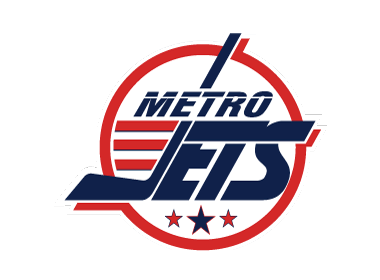 By Matt Mackinder
When Zach Koonce was picked up by the Metro Jets in a summertime trade with the Flint Jr. Generals, he knew he was coming to an organization where his skills would be developed to be college-ready.
After averaging nearly a point per game this season with 15 goals and 22 assists for 37 points in 38 games, Koonce parlayed that individual success into a commitment to attend and play hockey at ACHA Division I Oakland University in Rochester, Mich., starting with the 2015-16 season.
"When we had the opportunity to acquire Zach, I knew we were adding another element of offense to lineup," said Jets' head coach Justin Quenneville. "He and (Kyle) Shreve are our only 20-year-olds on the team and he has been a good leader for our team. He leads with his play and work ethic and has drawn a lot of attention from schools. OU was his choice and it's a great program. We wish the little guy the best of luck."
Koonce, a Lake Orion, Mich., native, said he looked around at his options, but kept coming back to OU.
"I've always had OU in the back of my mind since it's so close to me and also my goalie coach from last year, Jon Houle, is a part of OU now and he's the one that has been pushing me to attend OU," said Koonce. "This season hasn't been the best for me with all the injuries I've been through thus far, but I've had a lot of fun and think my defensive play has gotten quite a bit better thanks to Coach Q."
Oakland has long been a preferred destination for former Jets' players as during the 2014-15 season, forwards Doug Andrews, Tommy Kilgore, Mike MacKinnon and Matt Stirling and defensemen John Baker, Derek Britton and Will Shier all suited up for the Grizzlies. Forwards Chris Hellebuyck and Steve Wiechec played for the ACHA D-III team as well.
For Koonce, who is undecided on a major at Oakland, he's looking forward to finding his role on the ice.
"I think I could help them out by putting the pick in the net and playing solid 'D' whenever they need me to," said Koonce. "I look back at everyone who helped me pursue my hockey career since I started playing and I thank them all. I've always wanted to play college hockey and now I get the chance, so I'm super excited about next year being with OU."