Jets win OT-thriller over Pittsburgh in Game 1
March 12, 2015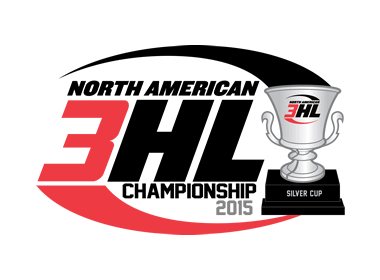 East Division Finals (Metro leads best of three series, 1-0)
Game 1: Pittsburgh 5 @ Metro 6 (OT)
Matt Dempsey's goal at 8:38 of overtime gave the Metro Jets a thrilling 6-5 win over the Pittsburgh Vengeance Wednesday night at Lakeland Arena in Game 1 of the NA3HL East Division finals. The Jets held a 4-3 lead late in the third period, only to allow the tying goal by Adem Arifi on a power play at 15:21. That set the stage for the sudden-death overtime where Dempsey emerged as the hero. The game-winning goal came after shot was blocked in the slot the directed right to Dempsey, who put it past outstretched Vengeance goaltender Jacob Stack.
"I just think it's cool to get the win for the team," Dempsey said. "It didn't really matter who scored, just as long as we got the win. The puck kind of bounced off my stick after someone took a shot and it bounced off the goalie or someone else and right to me and I just shot it at the net."
Ryan Bloom scored two goals for Metro, while Alex Holm and Max Vance added single goals. Dempsey and Graham Day each went for a goal and an assist, Jacob Drinkard added two assists and goaltender Kam Limburg stopped 27 shots, including two in overtime. In addition, Metro received assists from Jacob Drinkard, who had two and David Chavis, Cooper McLean, Tyler Layle, Cody Jones, Jake Sealy, Jason Newel, and Jacob Rutkoske, who each chipped in one.
Arifi and Nils Markgren each had a goal and an assist for Pittsburgh and Jacob Stack finished with 28 saves in goal. Pittsburgh was also helped by Devin Sroka, who finished with one goal. Sroka scored 4:49 into the first period to make the score 1-1. Yevgeniy Gladkiy assisted on the tally. Pittsburgh also had goals scored by Bryan Hovanec and Eli Lynn, who scored one goal each. More assists for Pittsburgh came via Gus Peponidis, Richard Doherty, Parker Henry, Brennan Conway, and Michael Straub, who contributed one each.
Limburg rejected 27 shots on goal for Metro. Jacob Stack made 28 saves for the Vengeance on 34 shots.
"That was playoff hockey," Jets' head coach Justin Quenneville said. "It was back and forth, momentum swings from goals and calls, but at the end of the day, it's the 'W' that matters most and I'm proud that the guys were able to persevere tonight."
Game 2 of the best-of-three series is Friday night at 6 p.m. in Pittsburgh.