Billings forward Theodosopolous makes NCAA commitment
March 14, 2015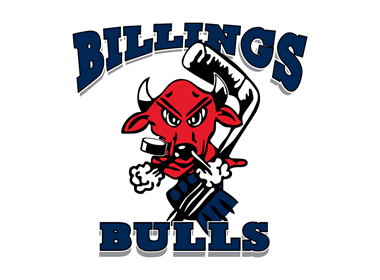 The Billings Bulls of the NA3HL are pleased to announce their first player advancement news of the 2015 off-season as 1994 Forward and Bulls Assistant Captain TJ Theodosopolous (Brookings, SD) has committed to the University of Wisconsin-Superior.
TJ has been a two-year member of the Bulls organization and played 95 career games in a Billings Bulls jersey. He tallied 84 points during his time in Billings split between 32 goals and 52 assists. He was 3rd on the team in scoring in 14-15, and led the team in scoring in 13-14.
"I think what I will miss most about Billings, is just the atmosphere," said TJ when asked about his experience in Billings, "I will miss everyone in the organization I got to know, everybody treated us (the players) like family, and made juniors an unforgettable experience."
While the Bulls still fell short of a championship this season, they expect to continue to pass on winning news like this in the coming weeks. The Bulls organization is proud to put player development and player advancement as a top priority of their program and currently, there are several other Bulls in the process of making important decisions as to where they are headed next fall.
TJ's choice did not come without a lot of thought, but in the end "I choose UWS because it seemed like the school that fit me best academically and hockey wise," said Theodosopolous. "I am looking forward to being able to play at the NCAA level. It's been a dream of mine since I was a little kid. The thing that excites me most about it, is the new challenges that it's going to bring."
The University of Wisconsin Superior is a public university located in Superior, WI that currently enrolls around 2,700 students. The Yellowjackets compete at the NCAA Division 3 level in the 5 team Wisconsin Intercollegiate Athletic Conference (WIAC). Last year UW-Superior finished the season with an overall record of 9-18-1. The school has a rich hockey history at the NCAA Division 3 level with 3 conference regular season titles (NCHA), 6 conference post season titles (NCHA), 12 NCAA tournament appearances, 9 to the Final Four, and 1 National Championship (2002).
The NA3HL and Bulls wish TJ the best with his future in college hockey and beyond. He plans on majoring in Criminal Justice.