Granite City wins 2015 NA3HL Silver Cup
March 22, 2015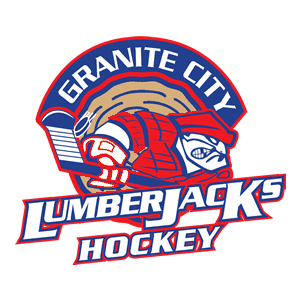 Granite City 3 vs. North Iowa 2 – Led by solid defense and good goaltending, the Granite City Lumberjacks got the best of their West Division rival on Sunday afternoon in the NA3HL Silver Cup Championship game as Granite City defeated North Iowa, 3-2 at the Fox Valley Ice Arena in Geneva, IL.
Although there was no scoring in the 1st period, it wasn't without its chances. Both the Bulls and the Lumberjacks had power plays, but the goalies were equal to the challenge. North Iowa goalie Chris Amsden made 9 saves, as did Granite City goalie Jesse Garcia.
Midway through the 2nd period, Granite City scored the game's first goal as some nice work in the offensive zone by Mitchell Gwost and Michael Orke got the puck to the net and after an original save by Amsden, Jared Sprink was on hand to poke home the rebound to put the Lumberjacks ahead 1-0. North Iowa had a golden chance late in the period to knot the game on a penalty shot, but a sprawling stick save by Garcia on Trey Gardner kept the Bulls off the board. North Iowa kept the pressure going and finally broke through late in the period as a slapshot from the point by Dylan Zins found its way through Garcia and into the back of the net, tying the game at 1-1.
The Bulls got into penalty trouble early in the 3rd period as the Lumberjacks took advantage on a 4 on 3 power play. Defensenan Mitchell Gwost parked himself at the bottom of the right circle and fired a shot that beat Amsden over the blocker for a 2-1 lead. David Horsmann and Travis Kothenbeutel picked up assists on the goal. Late in the period, the Lumberjacks again applied the pressure. Amsden kept the Bulls alive with several big saves, but after tried by both Kevin Finley and David Kenney were stopped, Travis Kothenbeutel swooped in to pick up the loose puck and fire one home for a 3-1 lead. However, the Bulls did not give up as less than a minute later, Trey Garnder scored on a goal mouth scramble to draw the Bulls to within 3-2 with about three minutes to go. Granite City clamped down the defense the rest of the way and with the goalie pulled, North Iowa could not find the game winner as the clock ran out.
Both Gwost and Kothenbeutel ended up with multi-point games and Garcia made 19 saves in the win. Amsden made 18 saves in the loss.
The win gave Granite City their second Silver Cup Championship in the last four years as the two-year Bulls reign came to an end. Both teams qualified to compete in the USA Hockey Tier III Junior National Championship next weekend in Simsbury, Connecticut.
All-Tournament Team
Forward: Jared Sprink, Granite City Lumberjacks
Forward: Johnny Panvica, North Iowa Bulls
Forward: Travis Kothenbeutel, Granite City Lumberjacks
Defense: Robert Click, North Iowa Bulls
Defense: Matiss Gelazis, Nashville Jr. Predators
Goaltender: Hunter Vorva, West Michigan Wolves