Silver Cup Champion Lumberjacks ready for Nationals
March 25, 2015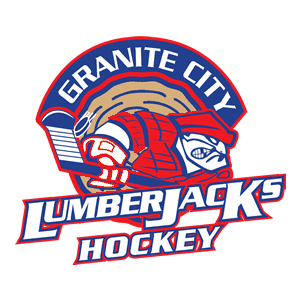 By Jim Smith, USA Junior Hockey Magazine
The Granite City Lumberjacks qualified for the NA3HL playoffs as a wild card team, and lost to their division rival the North Iowa Bulls in the first round of the Silver Cup tournament.
However, the resilient Granite City Lumberjacks reeled off three consecutive victories to capture the NA3HL title last weekend.
The third of that string of victories, providing the Lumberjacks their second Silver Cup in four years, was against North Iowa.
"We had good veteran leadership both at the blue line and up front for the season," said Granite City head coach Brad Willner. "We had some guys who had experienced the heartache of not making it and they were able to instill in the younger guys that every game counts right from the first game of the season in September all the way through to the end. You can't take a night off.
"Overall, we have more local guys than we've had in the past," added Willner. "Those guys all grew up together [around St. Cloud, Minn.] They may or may not have played against each other, but they all know each other. We just had guys with good chemistry," added Willner.
Included among the leaders up front contributing to the Lumberjacks' 2014-15 championship campaign were Dallas Marvin, Jared Sprink and David Kenney.
"Jared has been one of our top scorers all year. He came back to us [after playing in the Manitoba Junior League] to be with a team that would help him move on to college," said Willner. "He is a goal scorer."
"Dallas [committed to Bethel University] and David [committed to the University of Wisconsin-Superior] lead by example," added the Granite City coach, a former Academic All-American at Lake Superior State University.
An additional contributor to the Lumberjacks success was the youngest member of the team, Travis Kothenbeutel.
"[Kothenbeutel] signed a tender to play next year for Austin in the North American Hockey League. He went up during the season and played six games and had five points. He has proven he can play at the next level," said Willner.
Sprink and Kothenbeutel were Silver Cup All-Tournament Team selections.
On the blue line, Willner cited the efforts of Mitch Gwost and David Horsmann, describing them as "our two big leaders that are cagey veterans that have been around for a while."
With only a few days available to prepare for the upcoming USA Hockey Junior Nationals tournament in Simsbury, Conn., Willner will utilize the limited time wisely to get his team prepared.
"We will get the film on [our opponents] and show our guys who they're playing, what their tendencies are and we will figure out our strategies together," said Willner.