Despite loss to Granite City, North Iowa in Championship on Monday
March 30, 2015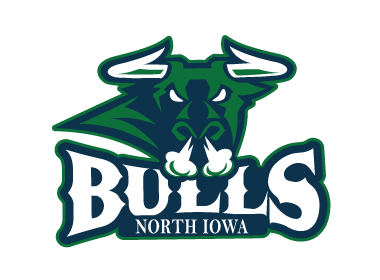 By Blake Schultz, Globe Gazette
Granite City 4 vs. North Iowa 3 - This wasn't how North Iowa Bulls coach Todd Sanden envisioned his team would make it to the national championship game, but nonetheless, the Bulls are headed to their third straight USA Hockey Tier III Junior National Championship game.
The Bulls fell 4-3 to Granite City on Sunday in the final game of pool play. The loss means the Bulls, Granite City and the Northern Cyclones all finished 2-1 in pool play, and thanks to goal differential, the Bulls and Cyclones will play for the national title Monday at 4 p.m. EDT.
North Iowa finsihed with a +2 goal differential and the Northern Cyclone finished with a +3 goal differential, while Granite City had a 0 goal differential.
"You just look at it so many ways," Sanden said of the loss. "You look at it like losing the battle but winning the war.
After gaining an early lead, Sunday's game slipped away from North Iowa's grasp.
Jake Johnson, assisted by Joe Burgmeier and Brett Gravelle, scored on the power play for the Bulls just over 13 minutes into the game to give North Iowa a 1-0 lead, which it would take into the first intermission.
Granite City evened the score at 1-1 with a goal by Travis Kothenbeutel 4 minutes, 24 seconds into the second period.
The Bulls' Tyler Johnson answered with a goal eight minutes later to put North Iowa back up by one, but Granite City would respond with a goal nearly two minutes after as Adam Marty lit the lamp to tie the game 2-2.
Granite City added two more goals more than halfway through the third period to take a 4-2 lead.
Needing to win by at least three goals, the Lumberjacks pulled their goalie late in the game in an attempt to push themselves into the title game. Gravelle scored on an empty-netter for the Bulls at the 19:09 mark in the third period to seal Granite City's fate and ensure the Bulls would keep their season alive.
"I'm just proud of these guys for the opportunity that they're providing us," Sanden said.
As for Monday's title game, the Bulls are not taking anything lightly, especially after losing in this spot a year ago.
The Bulls topped the Cyclones Friday in the opening game of the tournament 3-1 but were outshot in the game 44-38. Gravelle, Tyler Johnson and Johnny Panvica scored for North Iowa in the win.
"We have to be more responsible with the puck in the forecheck and in the defensive zone," Sanden said. "If we can get to the pucks early and bury some goals, it's going to be our game."