Yellowstone names Ryan Theros new head coach
April 1, 2015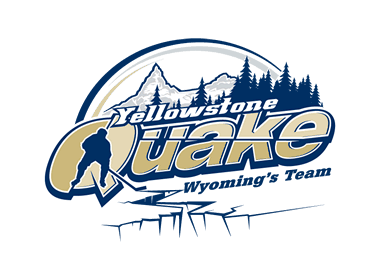 The Yellowstone Quake of the NA3HL have announced the hiring of a new coach and general manager for Cody's junior hockey team. Ryan Theros, a performance coach with Velocity Hockey Center in Eden Prairie, Minnesota; assistant coach of the Holy Family Catholic Varsity High School hockey team; and former assistant coach of the Quake under Sean Hogan during the 2009-2010 season, agreed to a two-year contract.
Theros has already started contacting returning players as well as recruiting new players on behalf of the Quake. "We are excited to have Coach Theros rejoin our organization," Quake Board President Vaughn Gdula said, "His background and enthusiasm will help our program to continue building quality hockey players."
During Theros' tenure, the Quake finished the season as the America West Division runners-up, losing in game five of a five-game championship series in the Northern Pacific Hockey League (NorPac). Theros was instrumental in assisting the movement of nine players from the Quake to the NAHL, three to NCAA colleges and one to the Western Hockey League (WHL).
Theros is from Two Harbors, Minnesota, where he played football, baseball and hockey all through high school, receiving All-Conference honors in all three sports. After high school, he went on to play junior hockey in the Minnesota Junior Hockey League (MJHL) and the Superior International Junior Hockey League (SIJHL). While playing junior hockey, Ryan attended Itasca Community College and received his Wildland Firefighting Certificate and his Associates of Arts Degree.
After junior hockey, Ryan went on to Play NCAA hockey and baseball for four years at Northland College in Ashland, Wisconsin while obtaining his Bachelor's degree in Business Administration and Economics accompanied by a Minor in Sports Management and Coaching.
His duties at Velocity Training Center, the only total player development program exclusively for hockey, include testing clients for strength, speed, agility, and power, and training to improve skating skills, strength and conditioning, and performance. Theros has worked with athletes of every level, from youth to those playing in the National Hockey League (NHL).
When asked why he would want to return to the Yellowstone Quake, Theros said, "My wife, Lindsey, and I loved our time in Cody, and I really enjoyed coaching there. I take great pride in my ability to develop players not only on the ice but with life skills. I want to play an integral role in helping players achieve their dream of playing collegiate hockey."
It also helped that the Quake are in the North American 3 Hockey League (NA3HL). "The NA3HL is a very professional organization—full-time coaches, incredible community and ancillary support, and an all around willingness to grow and move players to the next level. To me the most important aspect of junior hockey is the ability of the organization to put more emphasis on promoting players than on win-loss records."
Since Theros had a hand in many of those player promotions, the Quake organization pursued him first in their search for a coach. He added, "Yellowstone has a great history of developing and promoting players. Winning is important, but striving to win, and the attitude is what develops players and gives them the opportunity to compete at the next level." In addition to coaching the Quake, Theros will be involved in helping youth hockey players develop, something he has been doing for many years at Velocity. "When youngsters start from a fundamental foundation, they have an easier time learning the game and developing into athletes."
Several Quake board members remember Theros from his original year with the team. "Ryan was the best bench coach this team has ever had," one board member claimed. "We're very lucky to have him back on board."
Theros will make his home in Cody with his wife, Lindsey. Tryout camps will take place later in the summer. The Yellowstone Quake resume regular season play in September.