NA3HL approves new membership in Evansville, Indiana
April 3, 2015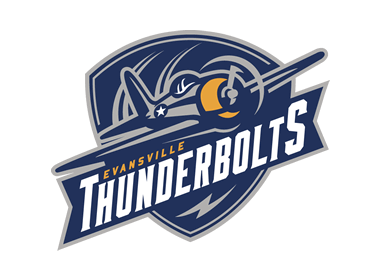 The North American 3 Hockey League (NA3HL) has announced that its Board of Governors has accepted the membership application for an expansion team in Evansville, Indiana to begin play for the 2015-16 season. The team will be known as the Evansville ThunderBolts and is owned by Innovative V, LLC, the same ownership group that currently owns and operates the NA3HL's Point Mallard Ducks.
With the addition of Evansville, the South Division now stands at seven teams and the NA3HL overall is now at 32 teams, including seven teams now in the South Division.
"We have recently experienced tremendous growth and success in the NA3HL and the South Division is a big part of that," said NA3HL Commissioner and President Mark Frankenfeld. "The ownership group of the ThunderBolts had a very successful first season with the Point Mallard Ducks in Decatur, Alabama and we are confident they will carryover that success and experience with them to Evansville as well. With the increasing popularity junior hockey has had in the Southern footprint, we felt the time was again right to look at strengthening the South Division to clubs to provide more opportunity for players as we continue our mission in creating the best and most diverse Tier III Junior property in the country."
The Evansville ThunderBolts are owned and operated by Total Package Hockey (TPH). Led by President and Founder Nathan Bowen, along with owner Ryan McCormack. TPH is one of the largest hockey service providers in the country and develops student/athletes in the game of hockey by providing them with innovative training, access to a professional and dedicated staff, while educating them on and providing them with opportunities to realize their full potential.
"We are very excited to be able to introduce an outstanding league like the NA3HL to Evansville, one of the brightest hockey markets in the region. We feel we are going to have a lot of fun introducing the brand of hockey to the players and fans in the area," said Mark Cody, TPH Director of Hockey in Evansville.
The ThunderBolts will play out of the Swonder Ice Arena. Opened in 2002, Swonder Ice Arena has two NHL-size rinks with seating for 1,400, 10 locker rooms, two officials' locker rooms, state of the art lighting, Pro Shop and food service areas, four multi-purpose party rooms/tournament office space, 10,000 sq. ft. fitness area with walking/running track and indoor/outdoor skateboard park. The Evansville IceMen of the then Central Hockey League (CHL) called Swonder Ice Arena home during the 2010-11 season.
The 2015-16 season will begin in September with 48 regular season games scheduled through March, at which time the playoffs will begin. The season includes a league-wide Showcase in December, along with a Top Prospects Tournament in February.