NA3EHL announces new expansion team: Northeast Generals
April 9, 2015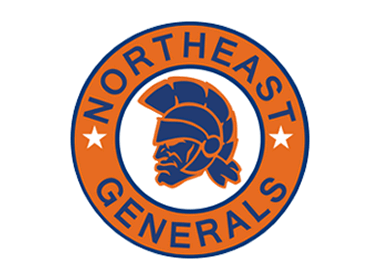 The North American 3 Eastern Hockey League (NA3EHL) has announced that a new expansion team, the Northeast Generals, have been granted approval by the NA3EHL Board of Members as a new team in the league for the upcoming 2015-16 season.
The Northeast Generals share the NA3EHL's vision of developing great hockey players, but more importantly great men. The Generals organization is led by Richard O'Dowd (Director of Operations), Bryan Erikson (Head Coach/General Manager) and Robert Penfield (Managing Director), who all bring an approach that focus's on the player's development both on and off the ice.
Head coach and general manager, Bryan Erikson, will lead the Generals on the ice. Erikson has over 18 years of coaching experience. He started by working closely with his father at Hockey Plus, one of the most successful and long running hockey camps on the South Shore. He has been the head coach at the camp for the last 15 years, overseeing and training all of the staff. Coach Erikson's extensive coaching experience also includes; Head Coach at Wareham/Carver High School, U18 Boston Junior Terriers, Hockey Night in Boston, Bay State Games to name a few.
"The Northeast Generals are extremely excited to join the NA3EHL. Although our goal will be to win as many games as possible, our primary goal is to develop the players and place them at colleges that they can excel at both athletically and academically," stated Erikson. "We feel we bring a unique mindset to junior hockey in the area. There are no promises of playing time, but instead the players will quite simply get what they earn. We will teach the players ways to improve themselves on the ice, in the weight room and in the classroom and show them that through hard work they have the opportunity to help open doors they previously thought impossible."
Erikson continued… "We will also get them in front of numerous scouts and work tirelessly to make sure that they have the chance to move on to the next level that is best for each individual player. Doing this will involve them working hard on the ice, off the ice and in the community. We are looking to build a franchise that sets a very high bar for community commitment, personal growth and athletic development. We look forward to getting started and evolving as a team and organization within the NA3EHL."
The team will be based out of the Canton Sportsplex in Canton, Massachusetts. The arena features two ice surfaces, 8 locker rooms, including a dedicated one for the Generals, pro shop and snack bar.
The NA3EHL features 12 active members, which now include: Cape Cod Islanders (Dennis, MA), East Coast Minutemen (Salem, NH), Jersey Shore Wildcats (Point Pleasant Beach, NJ), LA Fighting Spirit (Lewiston, ME), Lockport Express (Lockport, NY), Maine Wild (Biddeford, ME), New England Stars (Hudson, NH), Northeast Generals (Canton, MA), Roc City Royals (Rochester, NY), Skyland Kings (Stockholm, NJ), Syracuse Stampede (Mexico, NY) and Wilkes-Barre Miners (Wilkes-Barre, PA). During the past two seasons, over three-dozen players have committed to NCAA schools.
NA3EHL teams will compete in a 41-game regular season schedule and will take part in two Showcases throughout the 2015-16 season. There will be playoffs to determine a Champion in March of 2016.