NA3HL approves expansion membership to Rochester Ice Hawks
May 21, 2015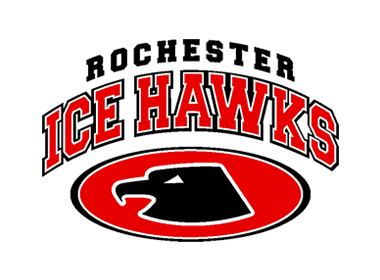 The North American 3 Hockey League (NA3HL) has announced that its Board of Members has granted an expansion membership to the Rochester Ice Hawks for the 2015-16 season.
The Rochester Ice Hawks are based out of Rochester, Minnesota, and will be entering their 20th season as a USA Hockey certified Tier III junior team. The team had previously competed in the MnJHL. The team is under the direction of President Michael Fatis, Chief Financial Officer Nancy Fenrick and Board Member Nick Fatis. The expansion membership is expected to be approved by USA Hockey in June.
"We are pleased to welcome the Rochester Ice Hawks organization into the NA3HL. The team has a long and storied tradition in junior hockey and we feel that their commitment to excellence on and off the ice, along with their location, makes them a perfect fit for the NA3HL," said NA3HL President and Commissioner Mark Frankenfeld.
The Ice Hawks are coached by Nick Fatis, who will be in his 16th season behind the Ice Hawks bench in the 2015-16 season. He has led the Ice Hawks to 6 MJHL and 7 Bush Cup Championships, nine National Tournament Appearances and four National Tournament Bronze Medals. He has 570 wins as a Junior Hockey Head Coach. He holds a Level 4 Coaching Certificate with USA Hockey.
The Ice Hawks organization is dedicated to providing players with the skills, attitudes, and experiences to succeed at the collegiate level and to reach full academic, social, and athletic potential. In the past 12 years over 150 players have moved to advanced Junior, College and Professional ranks. The coaching and administrative staff is committed to player development on and off the ice. In addition to hockey skill development, players are oriented to pursue higher education and to achieve social maturity. Players are encouraged to and afforded opportunities to participate in community service projects to and other activities to prepare them for success at the college level.
"We are pleased to be joining the NA3HL and we believe it is a strong league and one that will allow us to grow as an organization. We believe that the existing NA3HL footprint, specific to our region, is a great for us and will offer new and exciting local rivalries along with better competition," stated Ice Hawks President Michael Fatis.
The Ice Hawks play out of the Rochester Recreation Center, which is being renovated for the coming season and has a seating capacity of 2,600. The Ice Hawks hosted the USA Hockey Tier III National Championships at the Rec Center in 2011, 2012 and 2013. On the evening of April 1, 2011, a 'full house' of 2,600+ fans greeted the Ice Hawks in their first National Tournament appearance at their home rink. In the 2012 National Tournament, the Hawks earned the Bronze Medal losing a heartbreaker in the last few minutes of the game.