Metro forward McLean makes college commitment
June 15, 2015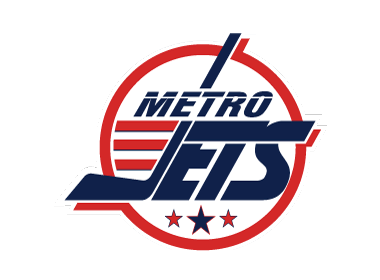 Cooper McLean won't be back with the Metro Jets next season, but that's a good thing. McLean, who skated with the Jets from 2013 to 2015, will continue his college career in the fall when he suits up for ACHA Division I Adrian College in Adrian, Mich.
With several options to choose from for next season, McLean is confident he made the right choice. "Adrian's coach (Rob Hodnicki) watched me at the Silver Cup and talked to me there," explained McLean. "We kept in touch until I made my final decision. Adrian's program has a winning mentality, and coming from the Jets where our mentality was to win as well, I felt it was only right to keep that going."
McLean will join former Metro teammates Zach MacKay and Josh Hosking on the Bulldogs, as well as several other players he has competed against over the years. Last season, the 19-year-old Farmington Hills, Mich., product finished second in team scoring with 40 points on 17 goals and 23 assists, improving on his 12 goals and 23 points of 2013-14. McLean credited his gradual progress to Jets coaches Justin Quenneville and Randy Wilson.
"'Q' and Randy have not only made me a better hockey player, but they've also made me a better person," McLean said. "I can't begin to thank them enough for how much they've done for me."
"Coop has come a long way on and off the ice," said Quenneville. "He committed himself to grow as a player and get stronger in all areas of his game. He was one of the most consistent players on the team last year and once he started using his size (6-foot-3, 215 pounds), he became a threat every night to the opposition. We wish him the best of luck with Adrian's top-notch program."
In the classroom at Adrian, McLean said he wants to focus on sports medicine."It'll be hard at first to get used to being a full-time student again but my main focus is good grades so I think I'll do just fine," said McLean.
During his first season with the Jets, McLean's father, Don, passed away after a courageous battle with cancer. In committing to Adrian and advancing his hockey career, thinking about his father is even more prevalent today. McLean said he wonders what his father would say to him in achieving this milestone. "It's funny, but I think about that question all the time," said McLean. "It kind of helps that everyone I tell about my commitment, the first thing they say to me is how proud my dad would be. Playing college hockey wasn't just my dream – it was his as well. "It was our dream together."
McLean joins defenseman Tyler Layle (Aquinas College) and forwards Zach Koonce (Oakland University), Ryan Bloom (drafted by NAHL's Minnesota Wilderness), Max Vance (tender with NAHL's Aston Rebels) and Devin Kelly (tender with NAHL's Topeka RoadRunners) as players from the 2014-15 East Division champions to garner advancement opportunities for 2015-16.