Dallas defenseman Wagner makes college commitment
June 18, 2015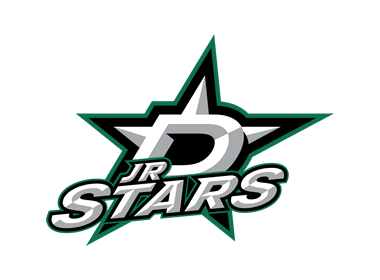 The Dallas JR Stars of the NA3HL announced today that defenseman Kody Wagner has committed to Adrian College (ACHA DI) for the 2015-16 season. Wagner, a native of Shelby, Indiana played one season for the JR Stars appearing in 35 games. "Wags" was a tower on defense with his 6'3", 190lb frame, adding 12 assists during the year.
"Kody was one of the first players we recruited last season from the Americas' Showcase event in Pittsburgh," said JR Stars GM Reggie Hall. "He skates really well for a big man and yet he handled the puck with ease. We saw him as a good fit for our squad and worked hard to get him to Dallas," continued Hall.
Wagner was named an Assistant Captain in training camp and led by example with his work ethic, focus and determination. An opening night starter, Kody logged about 16 minutes per game early in the year but steadily saw his ice time increase as injuries and trades hit the defense corp. By late January he was playing nearly 25 minutes per game until a shoulder injury sidelined him the last 10 games of the season.
"Kody was a great ambassador for our team and our sport," said Hall. "He led our community outreach into the area schools early on and was a great draw and fan favorite throughout the season. We will miss him in Dallas this year," Hall continued.
Adrian Head Coach Rob Hodnicki commented, "I'm very excited to have Kody join our team next season. Kody has a big body and likes to play a physical game. Over the past year, Kody has developed his game into someone that should be a solid contributor for us and for that I'd like to thank the Jr. Stars coaching staff and organization. We have some great Defensemen coming back and Kody will fit right in to add depth to our back end."
The JR Stars are an Affiliate of the Coulee Region Chill (NAHL) and will conduct Main Camp in Dallas on August 14-16. For information and to register please visit
www.starsjrhockey.com
.