34 in 34: Alexandria Blizzard
August 1, 2015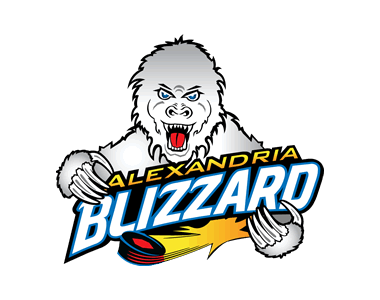 The 34 in 34 series will feature an in-depth look into all 34 teams in the NA3HL for the 2015-16 season, with a new team being highlighted daily, leading all the way up until the start of the regular season. 34 in 34 goes in-depth into each NA3HL team and will include interviews with all 34 head coaches in the NA3HL, as they provide fans with their expectations and outlook for the 2015-16 season, including taking a look at their potential roster and their strengths as a team for the upcoming season. It will also take a look back on the 2014-15 season and how each team fared and what they accomplished. Best of all, 34 in 34 will provide the fans of the NA3HL with an inside look at their favorite team and what to expect.
Alexandria Blizzard
2014-15 Record: 28-16-3, 59 pts. (3rd in West Division)
2014-15 Playoffs: Lost in West Division Semi-Finals to Granite City, 2 games to 1
Head Coach: Jeff Crouse
2015-16 Division: West
It was déjà vu all over again for the Alexandria Blizzard last season as for the third season in a row the club put together a very solid regular season and made the playoffs, but also for the third season in a row the Blizzard season ended at the hands of the Granite City Lumberjacks.
The Blizzard, under head coach Jeff Crouse, have been the model of consistency the last three seasons. They have finished 3rd in each of the last three years in the always tough West Division and in those three season have averaged 30 wins.
"I think we are very close to crossing the threshold we have been at the last three seasons," said Crouse. "We were 4-4 against Granite City during the regular season and last year's playoff series could have gone either way because it was that close. We were a bounce away from winning the series. We also beat North Iowa three times last season and that doesn't happen very often. We played in a very tough division and did well, so it is something to build on and keep us hungry. I think we are still among the elite teams in the NA3HL."
Crouse and the Blizzard find themselves in a revamped West Division with only five teams, minus North Iowa. Crouse said that the additional teams added to the mix this year and the realignment of divisions is a good thing for the league. "I think growth signifies a strong league and shows that we are doing the things the right way. We still have some great rivalries that we have been used to for years now in the division, but our out of division games will be against some great teams in North Iowa, Rochester and La Crosse, so our schedule will be very tough. It creates rivalries and our fans really like to see a mix of familiar teams and new teams, which we have a mixture of both, so I am exited about our schedule this year. It keeps things fresh."
The final tryout camp for the Blizzard is just a few days away and the roster is going to have a high amount of turnover from a year ago. Three of Alexandria's top five scorers from a year ago have aged out and Crouse said he expects the majority of the roster to be full of new faces. "We only have 6-7 returners, but that is because guys have moved on to higher levels or onto college, which is our goal, so it's not a bad thing. Camp is going to be competitive and there will be a lot of fresh bodies. I think our off-season went well with our tenders, draft picks and guys we recruited. They are going to give the veterans that we have coming back a run for their money and in the end, we are going to go with the guys who we believe give us the best chance for success. We want to keep raising the bar and give ourselves a chance to win the division," said Crouse.
Next up in the 34 in 34 series: Atlanta Capitals