August 3, 2015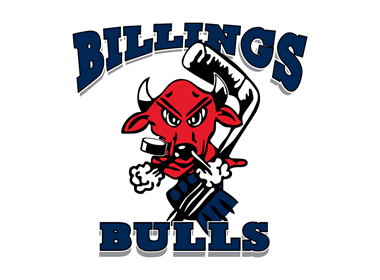 The 34 in 34 series will feature an in-depth look into all 34 teams in the NA3HL for the 2015-16 season, with a new team being highlighted daily, leading all the way up until the start of the regular season. 34 in 34 goes in-depth into each NA3HL team and will include interviews with all 34 head coaches in the NA3HL, as they provide fans with their expectations and outlook for the 2015-16 season, including taking a look at their potential roster and their strengths as a team for the upcoming season. It will also take a look back on the 2014-15 season and how each team fared and what they accomplished. Best of all, 34 in 34 will provide the fans of the NA3HL with an inside look at their favorite team and what to expect.
Billings Bulls
2014-15 Record: 25-16-6, 56 pts. (4th in the Frontier Division)
2014-15 Playoffs: Lost in Frontier Division Semi-Finals to Great Falls, 2-0
Head Coach: Michael Richardson
2015-16 Division: Frontier
New Billings Bulls head coach Michael Richardson will inherit a team that went to the playoffs last season and won a very respectable 25 games. The Bulls succumbed to the Great Falls Americans, the eventual Frontier Division representative at the Silver Cup, but nonetheless it was a successful 2014-15 campaign for the Bulls.
However, the winds of change blew through Billings after the season and the organization decided on a coaching change and named Richardson the new head coach in late March. Richardson is no stranger in the NAHL family of leagues. From 2012-14 Richardson served as Head Coach of the NAPHL's Atlanta Fire 18U team. He also has coaching experience in the NAPHL with the San Jose Jr. Sharks. Richardson also played an important part of developing a relationship with the NAHL's Topeka Roadrunners. With this relationship Richardson served as an assistant coach with the Roadrunners on available travel weekends.
"The opportunity to come back to Billings and coach again, where I was the assistant coach some time ago, was something that really intrigued me," said Richardson. "There is a rich history and strong tradition here and was something I couldn't pass up. There is a certain expectation on how to do things on the ice and in the community, and I think it is a destination that players want to be."
Richardson will have a solid foundation to work with to begin the 2015-16 season, which includes third-year forward and leading scorer Tristan Henrichs, who had 25 goals last season. It also includes forwards Cameron Birklid (31 points), Bryce Jensen (19 points), Austin Lange (6 points), along with defensemen Chad Stucker and Wolfgang Davis along with goaltender Alexander Meagher, who has made a remarkable comeback after being sustaining a head injury last season.
"I think that the development, the exposure and on-ice success are all under the same category and all go hand in hand," said Richardson. "We are going to develop a culture of excellence in everything we do. It should put the players in a situation to be prepared to move onto the next level. If that is somewhere like the NAHL, then so be it. However, anyone else that is able to move onto the collegiate level to extend his hockey career will be a priority of ours."
"I think we are team that can contend for a division title and one that is going to be exciting to watch and has really good size," said Richardson. "Most importantly, we will have a group of guys that enjoy playing for the Bulls."
Next up in the 34 in 34 series: Bozeman Icedogs