34 in 34: Breezy Point North Stars
August 5, 2015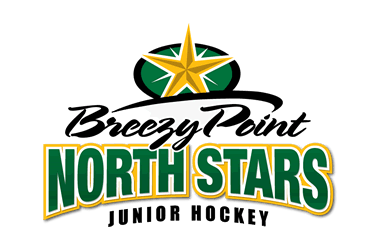 The 34 in 34 series will feature an in-depth look into all 34 teams in the NA3HL for the 2015-16 season, with a new team being highlighted daily, leading all the way up until the start of the regular season. 34 in 34 goes in-depth into each NA3HL team and will include interviews with all 34 head coaches in the NA3HL, as they provide fans with their expectations and outlook for the 2015-16 season, including taking a look at their potential roster and their strengths as a team for the upcoming season. It will also take a look back on the 2014-15 season and how each team fared and what they accomplished. Best of all, 34 in 34 will provide the fans of the NA3HL with an inside look at their favorite team and what to expect.
Breezy Point North Stars
2014-15 Record: 14-30-3, 31 pts. (5th in the West Division)
2014-15 Playoffs: Did not qualify
Head Coach: Jeff Worlton
2015-16 Division: West
Although the Breezy Point North Stars missed out on the playoffs last year, it was the team's most successful campaign since arriving in the NA3HL in 2012. The 14 wins almost double the team's previous high of eight wins set during the 2013-14 season and was a significant increase over the four wins posted in 2012-13. Not only is that thanks in large part to the increased talent on the roster, which saw several advancements and college commitments, but it also speaks to the work done by General Manager Craig Larson and Head Coach Jeff Worlton, who both bring experience in junior hockey to the mix.
"I think last year was a huge step forward for us," said Worlton, who has previous coaching experience with the Corpus Christi IceRays in the NAHL and Flint Jr. Generals in the NA3HL. "You always want to do better than 14 wins, but considering the seasons before that were eight and four wins respectively, I thought it was positive for this organization. We had some success on the ice and were competitive against the best teams in our division."
Worlton said that player advancement remains his number one priority and that was evident in 2014-15 with several players making the jump to the NCAA and other junior leagues. "We always want to advance players to the higher levels of hockey and that is something that is priority number one for our team. I think we have taken the right steps in hiring the right kind of staff that are able to develop these players to the best of their abililty," said Worlton.
For the 2015-16 season, Worlton said that he wants to take things a step further in terms of player talent and success against their divisional foes. "I think we have some good local talent that have a tremendous upside and potential and I think that we have to take the next step and not only be competitive with the best teams, but consistently beat the best teams."
The North Stars final camp takes place this weekend, so the final group of players for 2015-16 season will be known soon, but Worlton said that the big need is on defense. "We are going to be young on defense, but there will be plenty of opportunity. I think it will be difficult at first, but hopefully as the season goes along, our defense will step up to the challenge."
There are plenty of players from last year's team that are eligible to return, but Worlton said that some new players that he has identified as being impact players from the get go include Minnesota natives Josh Laven and Austin Langworthy, who are both from the Minnesota high school ranks and both had good offensive seasons in 2014-15.
Next up in the 34 in 34 series: Chicago Jr. Bulldogs