August 10, 2015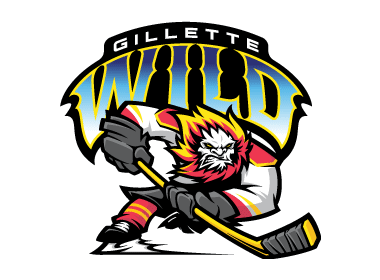 The 34 in 34 series will feature an in-depth look into all 34 teams in the NA3HL for the 2015-16 season, with a new team being highlighted daily, leading all the way up until the start of the regular season. 34 in 34 goes in-depth into each NA3HL team and will include interviews with all 34 head coaches in the NA3HL, as they provide fans with their expectations and outlook for the 2015-16 season, including taking a look at their potential roster and their strengths as a team for the upcoming season. It will also take a look back on the 2014-15 season and how each team fared and what they accomplished. Best of all, 34 in 34 will provide the fans of the NA3HL with an inside look at their favorite team and what to expect.
Gillette Wild
2014-15 Record: 33-13-1, 67 pts. (3rd in the Frontier Division)
2014-15 Playoffs: Lost in the Division Semi-Finals to the Helena Bighorns, 2-1
Head Coach: Brendon Hodge
2015-16 Division: Frontier
The Gillette Wild had a tremendous season in 2014-15. They were one of only 10 NA3HL teams to win 30 games or more and one of only eight teams to have a winning percentage of 70% or higher. They were only two wins away from laying claim to the Frontier Division title, however, their season ended earlier than they wanted as they were edged out in the Frontier Division Semi-Finals by the Helena Bighorns, two games to one.
Despite the good season, the winds of change blew through the Wild during the off-season and a coaching change was made as coach Tom Winkler departed for the Point Mallard Ducks in the NA3HL and Brendon Hodge was hired as the new head coach in early June. After playing in the NCAA After college Hodge played 10 years of professional hockey winning a league championship in 2010 with the Rapid City Rush. Since retiring from the game, Brendon coached the Rushmore Thunder High School to back-to-back South Dakota State Championships.
The Wild final camp took place this past weekend and Hodge says that it has been a whirlwind. "I though our camp was really good and I was really impressed with the pace that everyone played at," said Hodge. "I think the main pieces of the puzzle are in place and now it is just a matter of filling in the gaps."
Hodge said the his expectations for this year will try and take the next step to how close the team came last year. "I think finishing just a few wins shy of 1st place and one game away from the division finals told the guys that heading into this year that there is some unfinished business," said Hodge. "However, the ultimate goal for all these players is getting themselves ready and prepared for college. We want them to use this as that step towards that goal."
Hodge describes himself as an 'old-school' hockey guy. "I have been in their shoes and being recently retired from playing, I still know the drive these players have. I have made some good decisions and some mistakes and I hope to take what I have learned and pass it on in a constructive and positive manner to the players. There will be a time to push them, a time to let them have fun, so I hope my experiences will translate in knowing the right buttons to push."
As for the pieces to the Wild roster, Hodge said that he is excited to build the team foundation with two veteran goalies in Alex Feese and Stephen Wroe. The defensive corps will also have some returning players in Tristen Leberknight and Brett Kramer. Up front, the Wild will have leading scorer Mitchell McEwan returning after a 43-point season last year along with Kyle Traux and team captain Alex King, who is back for a third season.
Next up in the 34 in 34 series: Glacier Nationals