34 in 34: Helena Bighorns
August 14, 2015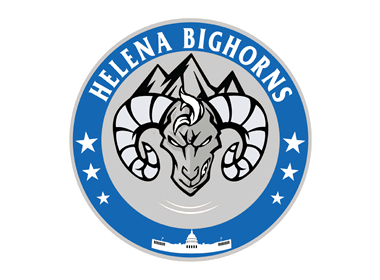 The 34 in 34 series will feature an in-depth look into all 34 teams in the NA3HL for the 2015-16 season, with a new team being highlighted daily, leading all the way up until the start of the regular season. 34 in 34 goes in-depth into each NA3HL team and will include interviews with all 34 head coaches in the NA3HL, as they provide fans with their expectations and outlook for the 2015-16 season, including taking a look at their potential roster and their strengths as a team for the upcoming season. It will also take a look back on the 2014-15 season and how each team fared and what they accomplished. Best of all, 34 in 34 will provide the fans of the NA3HL with an inside look at their favorite team and what to expect.
Helena Bighorns
2014-15 Record: 34-11-2, 70 pts. (2nd in the Frontier Division)
2014-15 Playoffs: Lost to Great Falls in the Frontier Division Finals, 2-0
Head Coach: Jon Jonasson
2015-16 Division: Frontier
The Helena Bighorns were trying to follow up their AWHL Championship and Nationals appearance from the 2013-14 season and put together another solid campaign last year that ended up having them in contention for a division title up until the very final day of the regular season. The Bighorns missed out on winning the division by a single point/win and ended up facing Great Falls in the Frontier Division Finals, where they were swept by the Americans for the automatic berth to the Silver Cup. A single point also eluded the Bighorns for the lone wild card spot that existed for the Silver Cup, which was secured by the eventual Champions, Granite City.
However, over half a dozen players were able to advance to college hockey from last years team, which included forward and NA3HL Most Valuable Player Brandt Miller, who committed to play NCAA hockey. It was one of the better college advancement years for any NA3HL and something that the Helena organization was proud of accomplishing. "I think there were a lot of good things about last year, but first and foremost we were proud of our player advancement and commitments. We met our #1 goal of moving players up and when you can move them to college hockey, it's a good feeling," said head coach Jon Jonasson.
Jonasson said that the disappointment of just falling short of winning the division and making the Silver Cup was something that motivated him and the team to build a stronger roster for this season. "We were a little bit disappointed in coming within a point of both the division title and the wild card spot in the Silver Cup," said Jonasson. "We have a veteran team coming back this year, but one of the first tasks was trying to replace a guy like Brandt Miller, so we went forward heavy in trying to build. We also wanted to build off of what we did last year. We have a goal of getting to and winning the Silver Cup this season and hopefully the 16 guys coming back take the experience from last year and learn from it."
The 16 veterans returning is bound to give Helena a leg up, especially to start the season when veteran leadership is so important. Some of those important pieces include forward Brandon Mills, who had 40 points last season. It also includes forwards Johnny Bonta (37 points), Kyler Chartier (41 points) and Blake Babineau (25 points), so offense should be a strength for the Bighorns.
Helena is also fortunate to be returning two veteran goalies in Grant Martens and Adam Ranck. Martens was the NA3HL Frontier Division Goalie of the Year last season, had a league best six shutouts and ranked 2nd in the league with a 93.8% save percentage. Although played in just eight games last year, Ranck put up some tremendous numbers with a 2.11 GAA and a 93.0% save percentage.
Next up in the 34 in 34 series: La Crosse Freeze