34 in 34: Louisiana Drillers
August 16, 2015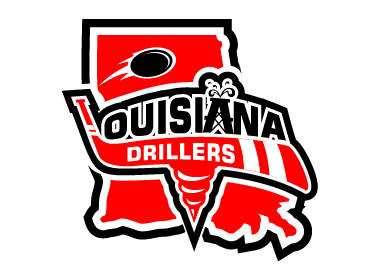 The 34 in 34 series will feature an in-depth look into all 34 teams in the NA3HL for the 2015-16 season, with a new team being highlighted daily, leading all the way up until the start of the regular season. 34 in 34 goes in-depth into each NA3HL team and will include interviews with all 34 head coaches in the NA3HL, as they provide fans with their expectations and outlook for the 2015-16 season, including taking a look at their potential roster and their strengths as a team for the upcoming season. It will also take a look back on the 2014-15 season and how each team fared and what they accomplished. Best of all, 34 in 34 will provide the fans of the NA3HL with an inside look at their favorite team and what to expect.
Louisiana Drillers
2014-15 Record: n/a
2014-15 Playoffs: n/a
Head Coach: Kevin Kaminski
2015-16 Division: South
The newest addition to the NA3HL is the Louisiana Drillers, who will be the league's first member from the state of Louisiana. Following their launch in late May, the Drillers have received a lot of community buzz as they look to make their mark in the South Division, which this season will span from Georgia through Alabama and Louisiana and into Texas.
Coaching the Drillers will be Kevin Kaminski, who enjoyed a 13-year professional playing career that included 139 games in the NHL with Minnesota, Quebec and Washington. Kaminski spent this past season as the coach for the Portland (Maine) Junior Pirates. Prior to that, he spent the past three seasons in the Southern Professional Hockey League as head coach of the Louisiana IceGators. In 2008-09, Kaminski was the Central Hockey League Coach of the Year guiding the RiverKings to a 42-16-3 record.
Kaminski said that he is excited for the season to get going, but also remains realistic about the process in building a team. "I think our goal as a new expansion team is to make sure that we don't rush things and make sure we stick to a long-term plan. The owners have done a great job in getting our home rink at Planet Ice ready and it is going to be a place that players will love to play at and the community will enjoy coming to. It is going to be a great atmosphere and the players will have an appreciation for the support," said Kaminski.
Kaminski said that the talent locally in good and that he has a good core of players after the team had their main camp in late July. "I think we are going to be a little older group that has some players with experience, leadership and a strong work ethic. There are a lot of options out there for them, but I think we stand out because we are a part of something new and exciting and the division is going to be very competitive. We understand that adversity is going to be a part of any team, especially one in their first season, but we were looking for players who wanted to be here and could work through that," said Kaminski.
Kaminski said there are a group of players that he is going to lean on early for leadership and production including defenseman Tucker Alspaugh. "Tucker is a great skater and will be solid on the back end. He can really move the puck," said Kaminski. Other players that Kaminski will look to are forward Josh Lodatto and Eric Eaton. "I think Josh is going to be a guy who can produce on offense right away and has some junior experience, while Eric is a little buzz saw and relentless around the puck. Both players aren't afraid to go into the tough areas to make things happen on the ice. They are going to compliment our team and hopefully give us some scoring punch," said Kaminski.
Next in the 34 in 34 series: Metro Jets