August 17, 2015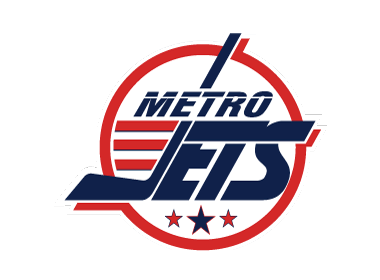 The 34 in 34 series will feature an in-depth look into all 34 teams in the NA3HL for the 2015-16 season, with a new team being highlighted daily, leading all the way up until the start of the regular season. 34 in 34 goes in-depth into each NA3HL team and will include interviews with all 34 head coaches in the NA3HL, as they provide fans with their expectations and outlook for the 2015-16 season, including taking a look at their potential roster and their strengths as a team for the upcoming season. It will also take a look back on the 2014-15 season and how each team fared and what they accomplished. Best of all, 34 in 34 will provide the fans of the NA3HL with an inside look at their favorite team and what to expect.
Metro Jets
2014-15 Record: 32-13-2
2014-15 Playoffs: Won the East Division, finished 5th at the Silver Cup
Head Coach: Justin Quenneville
2015-16 Division: East
Last season was a banner year for the Metro Jets. They were able to capture the East Division regular season and post-season titles. Metro also had a great showing at the Silver Cup, which included one of the longest games in Silver Cup history, a double overtime loss to the Nashville Jr. Predators. This season they will look to build off of last season's success and get back to the Silver Cup with a large group of returning players.
Head Coach Justin Quenneville had this to say about his team and the upcoming season, "I never over analyze our roster this early. Our Training Camp allows us to make the decisions we need to move forward and our goal is to be competitive from the get go. We always want to set a high standard and expect to win every night, but nobody wins a championship in the first month. At the moment, we are looking at a good nucleus of players returning. Approximately 10-11 players will help build off last season's success. One of last season's Captains Matt Dempsey will be an integral part of this seasons group and will be leaned on early," said Quenneville.
This summer has been a busy one for Jets as they moved from Lakeland Arena in Waterford Township to Fraser Hockeyland Arena in Fraser, Michigan. The Jets had a long and storied history with Lakeland Arena, but the chance to move to a top of the line facility and grow the Jets product was to good to pass up for the organization. "Lakeland has a lot of history with the team, 20+ years in fact. That tradition will continue in Fraser now that we have expanded the brand to house and travel hockey youth teams. We are excited about the transition, players and fans are raving about the facility, the gym, and the new environment," said Quenneville
The Metro Jets have not only become one of the more successful NA3HL teams in the wins and loss column, but also in advancing players to the next level. Their alumni list includes players at all levels including the NHL and NCAA. This past season they had multiple in-season call ups to NAHL teams as well as two players signing tenders with NAHL teams.
Coach Quenneville had this to say about his organization's success, "I have been fortunate to have a lot of family in the game and I try to continue to pick their brains. However, I have learned that patience is the most underrated key to success. I try to never get to high or low as a coach and believe in the model I preach. Everyone measures success differently, but we focus on the important values in building a successful team, and here it is to develop and promote. I like to think that we found a healthy balance to winning and promoting players."
Next in the 34 in 34 series: Minnesota Flying Aces