34 in 34: Minnesota Flying Aces
August 18, 2015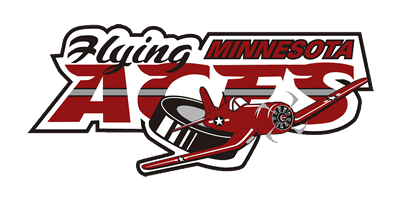 The 34 in 34 series will feature an in-depth look into all 34 teams in the NA3HL for the 2015-16 season, with a new team being highlighted daily, leading all the way up until the start of the regular season. 34 in 34 goes in-depth into each NA3HL team and will include interviews with all 34 head coaches in the NA3HL, as they provide fans with their expectations and outlook for the 2015-16 season, including taking a look at their potential roster and their strengths as a team for the upcoming season. It will also take a look back on the 2014-15 season and how each team fared and what they accomplished. Best of all, 34 in 34 will provide the fans of the NA3HL with an inside look at their favorite team and what to expect.
Minnesota Flying Aces
2014-15 Record: 7-37-3
2014-15 Playoffs: Did not qualify
Head Coach: Jim Jensen
2015-16 Division: West
The Minnesota Aces are set to begin their 5th season in the NA3HL with high hopes after a difficult season last year. Behind the bench for his first full season with the Flying Aces will be Jim Jensen. Jensen started last season as an assistant coach with the team and took over part way through the season after the previous coach departed the position. Jensen began his coaching career after a long playing career that includes, NCAA experience and professional playing experience. Jensen is looking to build off his first season as a head coach in the NA3HL.
"From a coaching standpoint, I would describe my first season in the NA3HL as a learning experience, and one that was very beneficial to my development as a coach. Making the transition from player to coach was made easier by the guidance I received from the team's GM Deb Holthaus," said Jensen.
Jensen has been working hard to ensure success for the 2015-16 season and likes what he sees so far. "On paper, this will be the best group of players that have donned the Flying Aces jersey to date. My expectations for this team are to be able to compete every night we play against our tough divisional rivals, being a team bound for the playoffs, and contending for the top of the division,'' said Jensen.
Coach Jensen will have the luxury of having a large group of veteran players from last year's team returning to the Aces for another season. He is hoping the combination of their experience and the quality first year players he has recruited will lead to more victories. "After struggling to find our identity until late into last season, 11 of the younger players that we took time developing last year will all be returning, and despite our record, we had success recruiting some top Minnesota High School seniors from their respective programs as well," said Jensen.
Helping Jensen behind the bench will be one of his former teammates and first year assistant coach Paul Falco. Falco brings with him a wealth of hockey knowledge and experience. He played at the NCAA Division one level as well as multiple seasons of professional hockey at varying levels. Jensen and Falco even played together as defense partners for one season of professional hockey. Both coaches are looking forward to getting the season started and establishing the Aces as a premier team in the NA3HL. "This is an exciting time for our program. We are headed in the right direction. Every team in our division will make every game a battle every night, and we are ready for battle," said Jensen.
Next up in the 34 in 34 series: Nashville Jr. Predators