34 in 34: Peoria Mustangs
August 21, 2015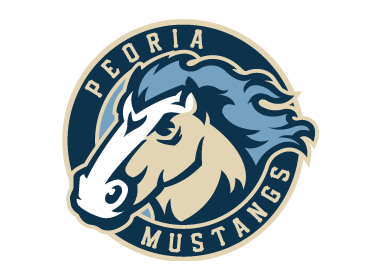 The 34 in 34 series will feature an in-depth look into all 34 teams in the NA3HL for the 2015-16 season, with a new team being highlighted daily, leading all the way up until the start of the regular season. 34 in 34 goes in-depth into each NA3HL team and will include interviews with all 34 head coaches in the NA3HL, as they provide fans with their expectations and outlook for the 2015-16 season, including taking a look at their potential roster and their strengths as a team for the upcoming season. It will also take a look back on the 2014-15 season and how each team fared and what they accomplished. Best of all, 34 in 34 will provide the fans of the NA3HL with an inside look at their favorite team and what to expect.
Peoria Mustangs
2014-15 Record: 23-19-5, 51 pts. (4th in the Central Division)
2014-15 Playoffs: Lost in Central Division Semi-Finals to West Michigan, 2 games to 1
Head Coach: Tyler Rennette
2015-16 Division: Midwest
Head coach Tyler Rennette is set to begin his 2nd season behind the bench of the Peoria Mustangs. Last season the Mustangs made the playoffs and lost a hard fought series to the eventual division champion West Michigan Wolves. This off-season coach Rennette has been pleased with what he has seen so far from his team. "We are looking really good for this season as a team. I loved the intensity level all the players showed at training camp. If they report with that same intensity then we should be in really good shape heading into the season," said Rennette.
Rennette is hoping the large group of veteran players returning will lead the way this season. "I am very fortunate to start the season with 15 returning players from last years team. With 15 players coming back it kind of makes recruiting a little easier and I could focus the positions I was a little weak on last season. I have two goalies returning in Nic Piech and Ross Lipic and they will be relied on to carry most of the load for us this season. They are both capable of being a number one guy on any team and they complement each other very well. Chance Homerin, Austin Wisely, Jason Hoehn and Thomas Kolaz will be relied on for leadership and to carry the load offensively for us this season," said Rennette.
Peoria is also brining a talented group of first year junior players. Rennette believes the Mustangs solid mix of veterans and rookies will mesh well together and possibly lead to a berth in the Silver Cup. "With the group of players I have returning and the rookie class that I have coming in I am expecting big things from this team. Its always nice to have a core group that already know what I expect system wise and discipline wise and that can take control of the locker room with the younger players coming in. It is my job to make sure everyone in the locker room is buying in to what we want to achieve as a team and has a team first attitude, I think we can achieve something special," said Rennette
The Mustangs are also set to join a new division this season. They are moving from the Central division to the Midwest division. The Midwest Division will provide them with some new opponents, but still keep one of their former rivalries going. "I am looking forward to playing in the new Midwest division. We obviously know a lot about St. Louis and they know a lot about us but the rest of the teams we know nothing about. We are looking forward to the challenge of playing against Nashville this season. They were a top team in the league last season and I am sure they will have another competitive team again this season. I know our players are looking forward to playing some different teams and seeing some different cities this season," said Renette.
Next up in the 34 in 34 series: Pittsburgh Vengeance