34 in 34: Point Mallard Ducks
August 23, 2015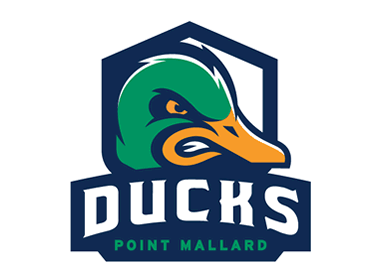 The 34 in 34 series will feature an in-depth look into all 34 teams in the NA3HL for the 2015-16 season, with a new team being highlighted daily, leading all the way up until the start of the regular season. 34 in 34 goes in-depth into each NA3HL team and will include interviews with all 34 head coaches in the NA3HL, as they provide fans with their expectations and outlook for the 2015-16 season, including taking a look at their potential roster and their strengths as a team for the upcoming season. It will also take a look back on the 2014-15 season and how each team fared and what they accomplished. Best of all, 34 in 34 will provide the fans of the NA3HL with an inside look at their favorite team and what to expect.
Point Mallard Ducks
2014-15 Record: 26-19-2, 54 pts. (4th in the South Division)
2014-15 Playoffs: Lost in the South Division Semi-Finals to Nashville, 2-1
Head Coach: Tom Winkler
2015-16 Division: South
The Point Mallard Ducks are set to embark on their second season of competition in the NA3HL. Their first season was a success as they were able to make the playoffs and put up a good fight before losing to eventual division champion Nashville Jr. Predators. This season they will have a new head coach behind the bench in Tom Winkler. Craig Bushey who was the head coach last season will return to team as the assistant coach.
Winkler maybe new to Point Mallard, but he is no stranger to the league. The past four seasons he was the head coach of the Gillette Wild and was able to lead them to an impressive record of 114-67-10. Coach Winkler is excited to get the season started and has enjoyed his time in his new community. "It has been a whirlwind last two months, but the community here in Point Mallard is excited for the upcoming season. We (Coach Bushy and myself) are extremely excited as to how the team is coming together. The organization and the community have been great in helping my family and myself with the transition. We are all ready to kick off the 15-16 campaign," said Winkler.
Coach Winkler has been very pleased with how his team is shaping up for the 2015-16 season. They have a large group of veteran players returning to the Ducks and have also been able to add some talented first year players to the mix. "We are a little less than 2 weeks away from training camp and we really like how we are shaping up. Our depth at all positions is going to be our key. We have 12 players returning from last season' s team and we expect big things from them. We have exceptional leadership in veteran players in net, on the blue line, and up front. Between the veterans and our incoming players, we feel that we can be an extremely competitive team," said Winkler.
With the roster shaping up to be a strong one coach Winkler is expecting his team to have a successful season and to be competing for a Silver Cup. "Obviously, our final goal is to get to the Silver Cup, but first we have to become a disciplined, hard working, and competitive team. We have to be mentally and physically prepared to play every game. We want to be a team that sets the games pace and tempo. A team that plays 200 feet and stays disciplined, is hard to play against," said Winkler.
The Ducks are owned and operated by Total Package Hockey which is a hockey service provider based out of Huntsville, Alabama. Total Package Hockey has done a tremendous job of growing hockey and providing opportunities for players in the Southeast United States. The Ducks organization is helping that growth and will be adding an 18U team to their organization in hopes of providing a training ground for future NA3HL Ducks.
Next up in the 34 in 34 series: Rochester Ice Hawks