34 in 34: Rochester Ice Hawks
August 24, 2015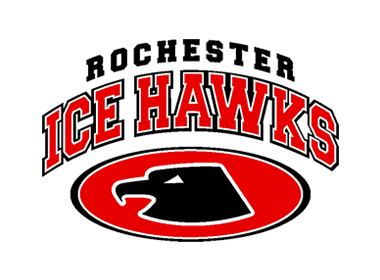 The 34 in 34 series will feature an in-depth look into all 34 teams in the NA3HL for the 2015-16 season, with a new team being highlighted daily, leading all the way up until the start of the regular season. 34 in 34 goes in-depth into each NA3HL team and will include interviews with all 34 head coaches in the NA3HL, as they provide fans with their expectations and outlook for the 2015-16 season, including taking a look at their potential roster and their strengths as a team for the upcoming season. It will also take a look back on the 2014-15 season and how each team fared and what they accomplished. Best of all, 34 in 34 will provide the fans of the NA3HL with an inside look at their favorite team and what to expect.
Rochester Ice Hawks
2014-15 Record: 35-6-1, 71 points *in MNJHL
2014-15 Playoffs: Lost in MNJHL league finals
Head Coach: Nick Fatis
2015-16 Division: Central
The Rochester Ice Hawks are set to begin their first season in the NA3HL. They previously had been playing in the now defunct Minnesota Junior Hockey League. The Ice Hawks bring with them a rich tradition of winning on the ice and an impressive record of moving players on to college or the next level of junior hockey. They have competed in multiple National championships and own multiple MNJHL Championships.
The Ice Hawks are lead by head coach Nick Fatis. Coach Fatis is set to begin his 15th season as head coach for the Ice Hawks. He brings with him an impressive resume that includes 7 bush cups, 9 national tournament appearances, and 494 wins as a head coach in junior hockey.
Coach Fatis is very pleased with his organization joining the NA3HL and is excited to get the season rolling. "As an organization we are thrilled to be joining the NA3HL and being in the NAHL family of leagues. It is a very well run league and has a strong structure in place. The NA3HL also shares many of the same values that we do as an organization and that was very important to us. We believe in developing fine young men on and off the ice. We expect our kids to do well in the classroom, make an impact in the community, and work hard on the ice," said Fatis.
The Ice Hawks got off to a slow start in recruiting, as they were a little handcuffed during the process of switching leagues this summer. Coach Fatis still believes he will have a strong roster and is looking forward to watching his players develop throughout the season. "We should have between 8 and 11 returning players from last year's team on this year's roster. We are playing a bit of a waiting game as a few of our potential returners are currently in NAHL camps. I expect big things out of returners Trey McMillan and Dan Trageser. They are both great leaders and fine examples of what we expect out of our players on a daily basis. As an organization we don't like to make a lot of roster moves once the season begins. Last season we only made one roster move the whole year. We believe the season is a learning process and we want to develop our players throughout the course of the season," said Fatis.
One advantage that the Ice Hawks have in developing their players over many other junior organizations is the ability to conduct their off ice training in a world class training facility. The Ice Hawks train at the Mayo Clinic training facility in Rochester, MN.
"The Mayo Clinic training facility really is second to none when it comes to training athletes. Our players are blessed with this opportunity and we take full advantage of it as an organization. It gives us a big advantage on the ice. By the end of the season our players are in top shape physically and it really shows in their performance," said Fatis.
Next up in the 34 in 34 series: Southern Tier Xpress