34 in 34: Southern Tier Xpress
August 25, 2015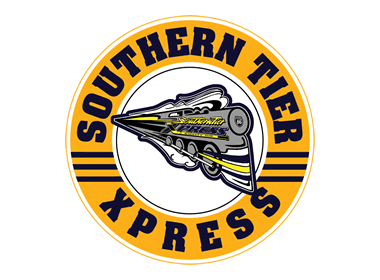 The 34 in 34 series will feature an in-depth look into all 34 teams in the NA3HL for the 2015-16 season, with a new team being highlighted daily, leading all the way up until the start of the regular season. 34 in 34 goes in-depth into each NA3HL team and will include interviews with all 34 head coaches in the NA3HL, as they provide fans with their expectations and outlook for the 2015-16 season, including taking a look at their potential roster and their strengths as a team for the upcoming season. It will also take a look back on the 2014-15 season and how each team fared and what they accomplished. Best of all, 34 in 34 will provide the fans of the NA3HL with an inside look at their favorite team and what to expect.
Southern Tier Xpress
2014-15 Record: 26-20-1, 53 pts (4th in the East Division)
2014-15 Playoffs: Lost in East Division Semi-finals to Metro, 2 games to 0
Head Coach: Brian Ramm
2015-16 Division: East
The Southern Tier Xpress are set to being their second season in Jametown, NY after a successful first year, which found them making the playoffs before being knocked out by eventual division champion Metro. This season the Xpress will have a new head coach in Brian Ramm. Coach Ramm has coached at multiple levels of hockey and is eager to begin his first season with the Xpress.
"Being a first year coach in the NA3HL is very exciting. I expect a lot of ups and downs, but am looking forward to the challenge. There is a lot to learn, but I have a lot to teach. I expect our team to come to the rink prepared to work hard and learn. Team GM Brian Cersosimo is making his return to the bench this season after a few years away and has already been an incredible asset to the group and myself. His hockey knowledge is second to none, and I am looking to learn from his experience and knowledge," said Ramm
Coach Ramm has high hopes for his team in his first year. The Xpress are set to have a large group of veteran players returning to the team, which he hopes will lead to wins and quality leadership on and off the ice. "It is very exciting to see our team come together. We have a great mix of ages, size and speed. The locker room atmosphere is intense. Our players are getting ready for the many battles they will face this season. We have 12 returning players this season, even though there was a coaching change. The confidence we have in the veterans and their desire for success sets the tone for the season. They will play major roles in our lineup and help teach the youngsters the grind of the junior game," said Ramm.
One area that coach Ramm has been very impressed with since he arrived in Jamestown is the relationship that the organization has been able to build with the community. Ramm appreciates the support they get and is looking forward to making that relationship even stronger in the years to come. "The organization and players are such a huge part of the community and the support the community gives to the student-athletes is second to none. We are very appreciative of the relationship and it does wonders for the players and gives them a different perspective and pride in being a part of the Xpress family, said Ramm.
With the season a few weeks away coach Ramm has a few simple goals for his team and a few changes planned as well for this coming season. "We are looking to make the playoffs and work towards winning our division. I expect our young players to grow and our veterans to lead by example. We will play a style different than last season and force our opponents at every turn," said Ramm.
Next up in the 34 in 34 series: St. Louis Jr. Blues