34 in 34: Sugar Land Imperials
August 27, 2015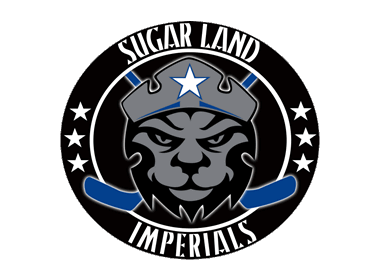 The 34 in 34 series will feature an in-depth look into all 34 teams in the NA3HL for the 2015-16 season, with a new team being highlighted daily, leading all the way up until the start of the regular season. 34 in 34 goes in-depth into each NA3HL team and will include interviews with all 34 head coaches in the NA3HL, as they provide fans with their expectations and outlook for the 2015-16 season, including taking a look at their potential roster and their strengths as a team for the upcoming season. It will also take a look back on the 2014-15 season and how each team fared and what they accomplished. Best of all, 34 in 34 will provide the fans of the NA3HL with an inside look at their favorite team and what to expect.
Sugar Land Imperials
2014-15 Record: 11-35-1, 23 pts. (6th in the South Division)
2014-15 Playoffs: Did not qualify
Head Coach: Jarod Palmer
2015-16 Division: South
The Sugar Land Imperials are beginning their 3rd season of existence in junior hockey. The first two years have been a little rocky for the organization. They have a combined 20 wins in two seasons and failed to make the playoffs last season.
The 2015-16 season appears brighter for the Imperials and head coach Jarod Palmer is feeling optimistic about what his team can achieve this season. "After just one week of practice we can definitely see a bright future for this group. This is the most skill we've seen since we started the program two season's ago. Our scouting staff and management team did a lot of work finding talented players who will contribute at this level," said head coach Jarod Palmer.
Head coach Jarod Palmer has been with the organization from its start in 2013. Palmer is no stranger to hockey in the Houston area as he played in the AHL for the Houston Aeros from 2010-2013. Coach Palmer has an impressive playing resume that includes playing time with the United States Development Program, Miami University, and a brief stint with the Minnesota Wild during the 2011-12 season. He retired in 2013 and immediately took over as head coach of the Imperials.
It has been a work in progress the past two seasons, but Palmer is expecting a big turnaround from his team this season and is very happy with the talent that has been brought into Sugar Land for the upcoming season. "I expect our team to make the playoffs this season and we'll see what happens from there. We've got a lot of depth up front, solid d-men on the back end with a few different looks minding the net. I'd be disappointed in this group if we achieve anything less than a .500 season," said Palmer.
One player in particular that coach Palmer will be counting to lead his team this season is returning defenseman Matt DeNure. DeNure is a 1995 birth year from Oshkosh, Wisconsin and was a member of team South at the 2015 NA3HL top prospects tournament. "We have one returning veteran d-man Matt DeNure, standing over 6ft tall with a good hands and nice vision, he compliments the team well," said Palmer.
The Imperials made one change in the coaching staff this offseason as they hired Josh Funk as the assistant coach. Funk who hails from Roseville, MN has experience coaching at the youth level and NCAA level as he worked with the Miami University women's team last season. Coach Palmer is excited to have Josh on board for the 2015-16 season. "Josh brings a lot of energy and excitement to the locker room as well as a strong understanding of the game. He will have a positive impact on our team this coming season," said Jarod. The Imperials open the season this weekend with an exhibition game against Texas State University on Saturday, August 29th at Sugar Land Ice & Sports Center.
Next up in the 34 in 34 series: Texas Jr. Brahmas