13 in 13: Cape Cod Islanders
August 29, 2015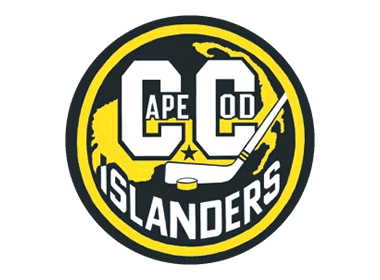 The 13 in 13 series will feature an in-depth look into all 13 teams in the NA3EHL for the 2015-16 season, with a new team being highlighted daily, leading all the way up until the start of the regular season on Friday, September 11th as eight teams take to the ice on Opening Night.13 in 13 goes in-depth into each NA3EHL team and will include interviews with all 13 head coaches in the NA3EHL, as they provide fans with their expectations and outlook for the 2015-16 season, including taking a look at their potential roster and their strengths as a team for the upcoming season. It will also take a look back on the 2014-15 season and how each team fared and what they accomplished. Best of all, 13 in 13 will provide the fans of the NA3EHL with an inside look at their favorite team and what to expect.
Cape Cod Islanders
2014-15 Record: 19-16-6, 44 pts. (3rd in the Eastern Division)
2015 Playoffs: Lost in the Eastern Division Finals to New Hampshire, 2 games to 0
Head Coach: Jay Punsky
2015-16 Division: East
It was a successful campaign for the Cape Cod Islanders last year under coach Dan Hodge. The team finished 3rd in the tough Eastern Division, posted an winning record and made it all the way to the Eastern Division Finals, where they lost to New Hampshire. The Islanders had a very balanced group of scorers last year with seven players posting 20 or more points and five players posting 10 or more goals. Production was also effective from the blue line as three of the top sevens scorers were defensemen. In addition, three players from last year's team moved onto play college hockey, with two in the NCAA.
For the 2015-16 season, Jay Punsky takes over behind the bench for the Islanders. Punsky, who spent the past two seasons with the Bay State Breakers, was named head coach in late March and can't wait to get the season started. "I think our goal is to make the playoffs and build on what the team did last season," said Punsky. Hodge, who has coached and/or owned the team for the last six seasons, said that he feels very confident in the selections of Punsky. Jay is going to do a great job with this team, he came highly recommended from people I know and respect in this game and his track record speaks for itself."
The Islanders will return just a few players from last year's Eastern Division Finalist team including defenseman Eric Szeker (9 points) and forwards James Brosnan (9 points) and Frank Oakley (11 points).
That means the majority of players on this year's team will be new. Punsky said that regardless of position the one thing he was look for in his players was compete level. "It has to be standard in anyone that wants to play for the Islanders. Guys have to have a good attitude, be hungry and go out there and work hard every time they touch the ice. We were fortunate enough in the off-season to find 24 players who we believe can take us to the next level using that mentality we have established," said Punsky.
Some of those new players that were signed in the off-season include goalie Anton Zemba, defensemen Zack Goodman and forwards Steve Matthews, Karl Eric Demers, Dylan Legarie, Dan Moore and Dan Demarco.
Punsky said the focus of developing players for the next level and putting together a winning program go hand in hand. "Our #1 priority is to move players onto college, but at the same time scouts want to come watch a good team and a team that plays exciting hockey. That's what we want be. We never want to be outworked on the ice and we think we have the group that is going to be able to accomplish all that," said Punsky.
Next up in the 13 in 13 series: East Coast Minutemen